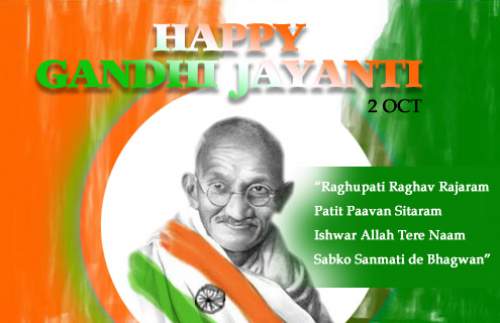 Mahatma Gandhi is most popularly famous as 'GandhiJi' to everyone in India. He was born on 2nd Oct 1869 as Mohandas Karamchand Gandhi to his Hindu bania parents named Karamchand Gandhi and Putlibai in Porbandar, Gujarat state of British India. Gandhi is also known as 'Bapuji' in India for his unforgettable struggle and leading contributions for the freedom of India from the British rule. Govt of Republic of India declared 2 October as National Holidays of India to mark the birthday of the 'Father of the Nation'. Every year this day is official observed as 'Mahatma Gandhi Jayanti' in all the states and union territories of India.
Gandhi Jayanti is one of the three officially declared National Holidays in India. Another two national holidays are 26 January (Republic Day) and 15 August (Independence Day) which celebrated with lots public functions throughout the country. Public services from Govt offices, banking and postal services are normally closed on Gandhi Jayanti. Private organizations also marked as holiday with opening of only the emergency services like hospital, medicine store, and transport service for urgent requirements of the people. Education institutes like school, college, university are generally hold completion of essay writing, quiz, debate and cultural function related on life and history of Mahatma Gandhi.
The main public event of Gandhi Jayanti is observed in the national capital with prayer services at Gandhi's memorial 'Raj Ghat' in New Delhi. The honorable President and Prime Minister of the India are present on this national ceremony with prayer of 'Raghupati Raghava Raja Ram' favorite devotional song in his remembrance. Gandhi Jayanti conventionally observed with singing prayers, meeting, lighting candles, commemorative ceremonies and offering flowers on Gandhiji's statue or photo in various cities and all parts of the country. His patriotic and valuable philosophy inspires all the Indian as the ideal person for Independence of India.
People around the world also certified the glorifying non-violence and peace of Gandhi's effort in Freedom Struggle of India. The United Nations on significance reputation of Gandhi Jayanti commemorating Mahatma Gandhi's birth day as the International Day of non-violence. The three most important locations of Mahatma Gandhi are Sabarmati Asharm the place of the Gandhi's most of the life. Second is the Martyr's Column at Gandhi Smriti in Delhi where Gandhi was shot. Third is the Raj Ghat on the banks of the river Yamuna in Delhi the place of his cremation. Please visit these places to know more about the life of Mahatma.
Lovevivah.com matrimonial site is wishing very Happy Mahatma Gandhi Jayanti to all the Indian.