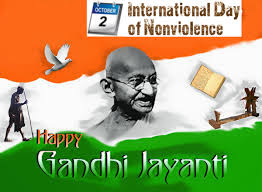 Gandhi Jayanti is celebrated on the 2nd October year on the birthday of Mahatma Gandhi (Mohandas Karamchand Gandhi). The great freedom fighter of India is regarded as the 'Father of the Nation'. Mahatma Gandhi is popularly known as 'GandhiJi' and 'BapuJi' in India and the world. He was born on 2 Oct 1869 to his Hindu parents named Karamchand Gandhi and Putlibai in Porbandar, Gujarat. This day is observed as national holiday across all the states and territories of Republic of India. It is also one of 3 official national holidays of India which are 26 January (Republic Day) and 15 August (Independence Day) declared as public holidays.
On this national day, all the Govt. offices, banking, and postal services (excluding the emerging services) are normally closed to remember the great the son of Mother India. Private companies mark as holiday with opening of emergency services like medical, health care, and transport service for urgent needs of the public. However, most of the school, college, university and education institutes organise essay completion, quiz, public debate related on life and history of Mahatma Gandhi. There are cultural functions from the Govt. and private organizations, TV Channels and media circles to celebrate the learning and quotes by Gandhiji.
International Day of Non-Violence by the United Nations
On 15 June 2007, the United Nations General Assembly announced by adopted a resolution which declared that 2 October will be observed as the International Day of Non-Violence in the world. On this day, there are so many public debates arranged by the United Nations offices in various cities of the world.
In India, Gandhi Jayanti official celebration starts with a prayer services at Raj Ghat, Gandhi's memorial (his cremated place) in New Delhi. National slogans like 'Vande Mataram, Jai Hind and Satyamev Jayate' are given with prayer meetings, commemorative ceremonies in different cities by local government institutions and educational institutions and political parties. Favourite painting competitions are conducted among the children with prizes given for projects in schools for peace, non-violence. A Hindu devotional song "Raghupathi Raghava Rajaram" is usually sung in his memory which Gandhi's favourite Bhajan of spiritual.
People lighting candles and offering flowers on Gandhi's statue or photo in all parts of India. Remembering his patriotic and philosophy which inspires all the Indian freedom for Independence of India from the British. Awards are given to important personalities for glorifying non-violence and peace of Gandhi's ideology. There are 3 most important places of Mahatma Gandhi. Please travel the following historical places which explore you more about the life of Mahatma Gandhi.
Sabarmati Asharm – The place of the Gandhi's most of the life living.
Martyr's Column at Gandhi Smriti in Delhi – Here Gandhi was shot down.
Raj Ghat on banks of river Yamuna in Delhi – The place of his cremation.
Lovevivah.com marriage matrimony sites wish Happy Mahatma Gandhi Jayanti on the birthday of great Indian the Mahatma.