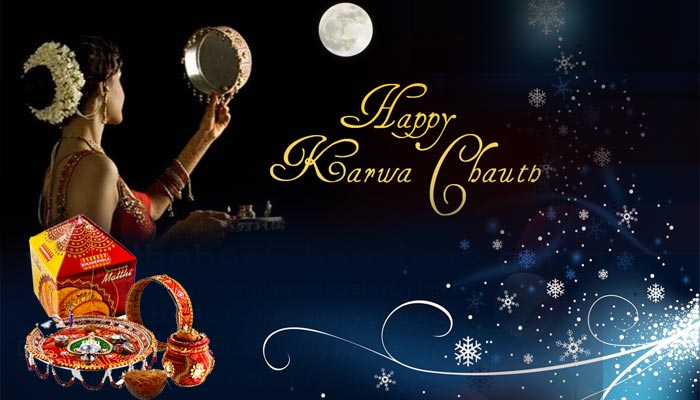 Karva Chauth (Karwa Chauth) is a Hindu festival. This festival has its own significance.  On this day, all Hindu married women keep fast for their husband's long life, well-being and prosperity. According to Hindu lunar calendar, this festival is celebrated on the fourth day of Krishna Paksha in the month of 'Kartik'. This vrat rituals starts from early morning and ends on late night or with moonrise. All married woman keep the fast for whole day till moon rise. The main objective of the fast is to have happy and blissful married life.
As per Hindu mythological stories, Karva Chauth fast was first done by Goddess Parvati for her husband Lord Shiva. Goddess Parvati had put great efforts before marriage to get Lord Shiva as her husband. Married women keep the fast for whole day to tribute to Goddess Parvati for her sacrifices to Lord Shiva to get him as husband. The word 'Karva' means clay pot and 'Chauth' stands for fourth. Karwa Chauth describes the fourth day of the 'Kartik' month of Indian Hindu calendar which followed by full moon night. Women break their fast after viewing the moon at night and her husband through a sieve. Women offer flowers and water to the moon during the prayer. After completing that ritual her husband feed her some fruit or sweet to break the fast.
Hindu and Sikh married women celebrate this special day with ladies of their family and with other females. It is widely celebrated in the states of Himachal Pradesh, Jammu and Kashmir, Punjab, Haryana, Rajasthan, Uttarakhand, Uttar Pradesh, Bihar, Chhattisgarh, Madhya Pradesh, Gujarat and Maharashtra. Nowadays, Karwa Chauth is celebrated in almost all cities of India due to the cultural effect of Bollywood and Hindi cinema. The Indian Hindu communities who are living in the UK, the US, Canada, Singapore and Australia celebrate this important festival among themselves. Sometimes it is seen the unmarried girls also keep fast to get married to the desired husbands.
Woman in India are worshipped as Goddess with in different stages of their like such as daughter, wife and mother. Her mother-in-law and husband offer her gifts like jewelry, clothes and ornaments. All married women dress up majorly in pink or red colored sari with Mehndi (Henna) on her hand during this festival as these two colors as considered most auspicious in Hindu religion. Newly married brides will wear their wedding attire on her first Karva Chauth. This bridal look on this festival dedicated to her love for her husband. Bollywood films like 'Dilwale Dulhania Le Jayenge' and 'Baghban' are most popular for Karva Chauth.
LoveVivah.com Indian matrimony websites offers platform for girls and boys to search their suitable groom and bride profiles. Wishing a very Happy Karwa Chauth…!