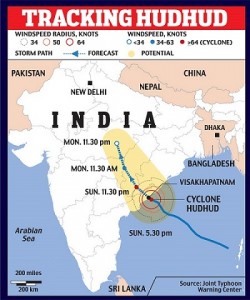 The Hudhud cyclone stroked with the landfall 185 km/hour wind speed in Visakhapatnam the port city of Andhra Pradesh and near the costal of Gopalpur in Odisha on Oct 12. Hudhud is a severe cyclonic storm created in the North Indian Ocean 6th Oct 2014. This was created by low pressure under upper-air cyclonic circulation in the Andaman Sea and intensified for depression. Then after with unfavorable climatic conditions Hudhud cyclonic storm intensified to large figure on October 8. As per the Indian Metrological Department (IMD) the cyclone further integrated for super cyclonic on 9th Oct 2014.
The name cyclone Hudhud was given by Oman after the name of the bird Hoopoe (Hudhud in Arabic) and also the national bird of Israel. The Govt of India, State of Andhra Pradesh, and Odisha were fully prepared with the National Disaster Response Force (NDRF) to tackle the natural calamity. The Indian Railway had cancelled 38 trains which routes through the Visakhapatnam, Bhubaneswar cities and the Airlines facilities had been closed.
The Prime Minister Narendra Modi has talked to Chandrababu Naidu Chief Ministers of Andhra Pradesh and Naveen Patnaik of Odisha about the stock preparedness for Cyclone Hudhud. The PM asked for emergency meeting to review for the cyclone and discussed about the major communication, relief and rescue operations. The Govt has evacuated 3.8 Lakhs people from Andhra and 2.5 lakhs people from Odisha before the cyclone hits landfall.
Effect of Hudhud Cyclone

Visakhapatnam (Vizag) city in Andhra was heavily affected by Hudhud with the speed of 185 km/hour. Srikakulam, Vizianagaram, Visakhapatnam, East Godavari, West Godavari districts were also sour up by the storm. Odisha reported with Gopalpur town, Kendrapara, Jagatsinghpur, Puri, Ganjam, Gajapati, Malkangiri, Rayagada and Koraput districts were worst hit by the cyclone. In Andaman and Nicobar Islands the landslides were reported making power and communication lines disconnected in the area.
Hudhud Cyclone Emergency Helpline Contacts:
NDRF Control Room at Delhi: 011-26107953, 09711077372; Email:  ndrfhq@nic.in
Ministry of Home Affairs, New Delhi: 011-23093563, 011- 23093566.
Andhra Pradesh – 1100, 1949, 9849904019, 0863-2234301, 040-23456005, 23450419.
Visakhapatnam – 0891-2563121, toll free 1800-425-00002
Srikakulam – 1800-425-6625 (Toll Free), 08942-225361 9652838191,
East Godavari – 0884-2365424/2365506, toll free 1800-4253077/4251077;
West Godavari – 08812-230050/230934/252655, toll free 1800-4258848;
Vijayanagaram – 08922-278770/236947;
Odisha State – 1948;
Bhubaneswar – 0674-2303110; Sambalpur – 0663-1072;
Indian Railway Helpline for Cyclone Affected Stations:
South Eastern Railway (SER):
Howrah – 033-26382217, Kharagpur -03222-255735, 03222-255970, Tatanagar – 06571072, Rourkela – 0661-2522828 and Jharsuguda – 06645-271265, 06645-1072.
East Coast Railway (ECoR):
Cuttack – 0671-2510131, Bhubaneswar – 0674-2532233, Puri -06752-226717 and Brahmapur – 0680-2229633.
South East Central Railway (SECR):
Bilaspur- 07752-247152, Nagpur – 07122-564879 and Raipur – 08827395699.
We at LoveVivah.com request all the people to contact at the above phone no.s for reference to the relief, transportation, Railway and other service by the Govt. We hope it will make helpful to coordination among the Govt. authority with the relief operation in states of Andhra and Odisha.