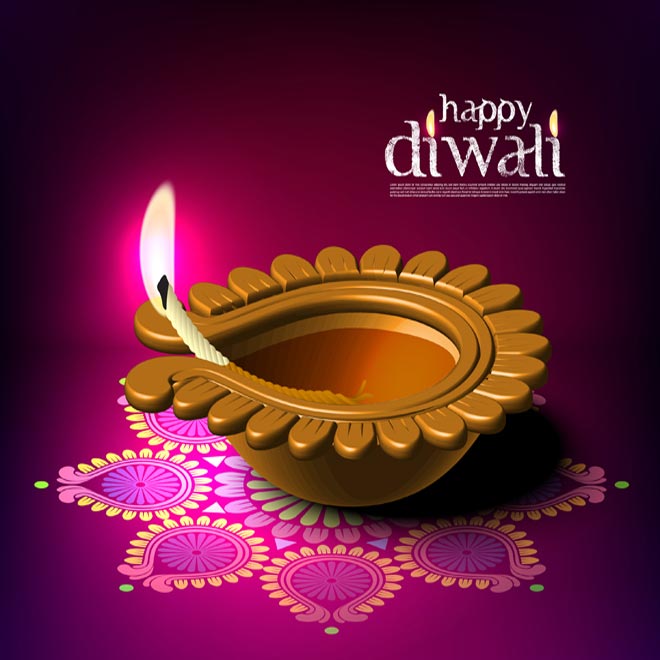 Diwali is one of the biggest national festivals of India. It is known as the festival of lights celebrated by Hindu, Jains, Sikhs and Buddha communities across India. According to Hindi language the word Diwali is combination of two words: Deep and Awali, which stands for lamps and row, so which combined as Deepawali. The festival generally falls in the month of October or beginning of November as per Hindu Lunar which is known asin the month of Kartika. This event is observed in every part of India with great enthusiasm. As a ritual of this auspicious festival, people perform Goddess Lakshmi puja on the evening of Diwali to receive blessings from Goddess Lakshmi and Lord Ganesh for good fortune and prosperous life. Diwali is also famous for decoration of lights and candles in India. Besides, people exchange sweets and gifts with their loved ones.
The festival also symbolizes the victory of good over the evil.  As per the mythological stories, the festival commemorates Lord Ram's return after completing his 14-year of exile to his kingdom Ayodhya. So, the people celebrate this festival of lights with great enthusiastic to welcome Lord Ram. The Goddess Lakshmi, the wife of Lord Vishnu is worshiped for wealth and prosperity of the family. In the states of West Bengal, Odisha, Assam the festival is celebrated as 'Kali Puja' along with Diwali. In southern states of the country, people celebrate this auspicious festival as symbol of victory of Lord Krishan over the Asura Narak. It is also believed that on the day after conquering Asura Narak, he freed all prisoners from his tyranny. The Buddhists in India believe this festival as annual day of the King Ashoka's conversion to Buddhism. People of Jainism mark the day of Lord Mahavira's attainment of nirvana.
So, Jains observe the occasion as the festival of lights in the honor of Mahavira. The Sikhs in India celebrate to mark the day of freedom of Guru Hargobind from the jail. Diwali festival is widely an Indian festival, but is also celebrated in countries like Malaysia, Sri Lanka, Singapore, Nepal, Myanmar, Mauritius and Fiji. It is celebrated by the Indian diaspora in the US, UK, Canada, Australia by bursting of fire crackers, distribution of sweets among their friends.
On this auspicious festival, as a ritual people buy different things such as new clothes, gifts, appliances, kitchen utensils and gold jewelry. On Diwali night, the houses are decorated to welcome the Goddess of wealth Maa Lakshmi.
Lovevivah.com Matrimonial site wishing you very Happy Deepawali.