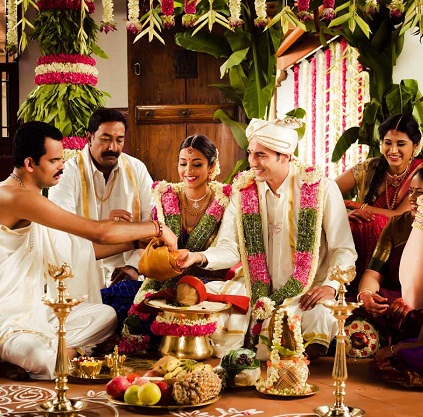 Tamil people are mostly educated and highly respective for good social behavior. The community belongs to Tamil are part of the south India states in India. The people in state of Tamil Nadu are referred as the Tamils. The culture, traditions of Tamil people are very popular among the southern states of India. The people of India are also very careful to ensure the relation among the various people from all the states. This will be positive impact on the cultural exchange among the people of India through the music, song, traditions and education system.
The Tamil marriages are more famous among the south Indian family to establish the love relation between the husband and wife. There are some steps of Hindu traditions which are followed by the Tamil community or Tamil speaking people's wedding.
Pre Marriage Rituals
These rituals started with prayer to God by the both families of bride and groom. Then, the bride family welcomes the groom with Aarti on the previous day of wedding. The groom eats sweets, the Pandit sprinkling water on the head and braking of coconut for holiness. After this 'Vratham' puja is arranged before wedding. Naandi is ceremony for the Tamil Brahmins where the groom offered gifts and sweets for wedding tip. The official engagement is called 'Nicchiyadharatham' when both the groom and the bride exchange wedding rings. Then after, formal announcement of marriage is organized to inform the relatives and friends about the wedding alliance.
Marriage Rituals Ceremony
On the marriage day the 'Mangala Snaanam' arranged when the groom and bride take bath for purification. And make sure they applied oil and haldi on their body before the bath. Then the groom goes towards the marriage Mandap to meets his bride. Here bride and the groom exchange the garlands with each other. Next is 'Kanyadaanam' wherein the bride's father gives his daughter's hand to the groom. Then the 'Muhurtum' ceremony when the groom puts Vermillion on the forehead ties Mangalsutra on the neck of his bride. Finally they take seven rounds 'Saath Phere' and seven vows around the Saptapadi (sacred fire).
Post Marriage Rituals
After the marriag function, the families of bride and groom exchange gift which is known as 'Sammandhi Mariyathai'. Now the bride leaves for her marital home to go with husband's house. The married bride is most welcomed by her mother-in-law with the traditional Aarti in the presence of her new family members. The ceremony is known as 'Grihapravesham'. Reception party is now organized at the groom's house for relatives and guests to meet the newly married couple to give blessings. You can check Indian matrimonial sites for Tamil groom and brides for wedding.