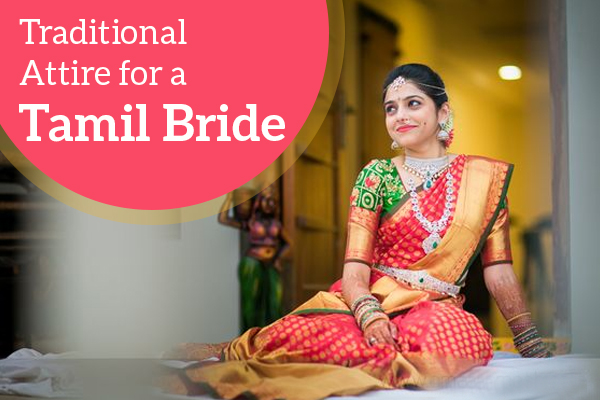 India is a land of multiple religions with language, traditions, customs and cultures varying at every few kilometers. Amidst these entire differences one thing that remains common is the excitement that prevails in a family where wedding is scheduled to happen. Yes, you got it right! From east to west and north to south, any region that you pick up, you can feel the same enthusiasm and excitement. Tamil matrimony is no exception. Even in a Tamil wedding, who can be more excited than the Tamil bride and the Tamil groom to be?
Well, there are several areas of delight for a Tamil Bride starting from the wedding preparation, venue, decor, honeymoon and many more. Yet, the selection of wedding dress pre-dominates the all.
Tamil bride, one of the most celebrated icons of the Indian culture portrays an image of bridal beauty and elegance. A typical Tamil Brahmin bride is usually seen wearing a 9 yard long Kanjeevaram Saree in hues of bright colors with contrasting borders that have gold threads woven into beautiful patterns. A non-brahmin Tamil bride would wear a regular 6 yard long saree. Hair are done in an elaborate plait and bun combination, draped with flowers and gold ornaments. Tamil bride is adorned with gorgeous looking heavy gold jewelry, especially the ones that are mainly family treasures that are being passed on from one generation to the next.
A few prominent jewelry pieces that adorn a Tamil bride are Metti (Toe Ring), Kolusu (Anklet), Oddiyanam (HipBelt), Vanki (Armlets), Maanga Malai (Mango shaped necklace), Nose Ring or Nose Stud, Earrings, Thalaisamaan (on forehead), Jadanagam (decorating braid).
Metti or toe ring is a ring made of Silver, with two or three line rounds and it is worn in the second and third finger from toe. Kolusu or Anklet made of silver is worn around the ankle. Oddiyanam/ hipbelt is made of silver or gold and is worn around the hip. This not only increases the grace of the bride but also if worn regularly, helps avoid the belly and hip fat. Vanki/ armlets are 'V' shaped jewelry pieces with an exclusive design in the center and delicately carved peacocks or florals on the side and are worn on arms. Maanga Malai is a necklace of mango shaped gold pieces, stunning in appearance. Nose Ring or Nose Stud can be a small stud with one stone or a bigger one with 7-8 stones. Even in some families, a heavy nose ring is worn by the bride. There are multiple variations and designs for the earrings which complete s the bridal look. Thalaisamaan is an ornament unique to Tamilian culture and is worn on the forehead on the parting of the hair along the forehead. Jadanagam looks like a snake, worn on the braided hair in an entangled design and there is a Kunjam at the end of braid.
Kanjeevaram Silk Saree along with all these ornaments put together completes the looks of a Tamil bride and sets her to mesmerize all with her beauty and elegance.