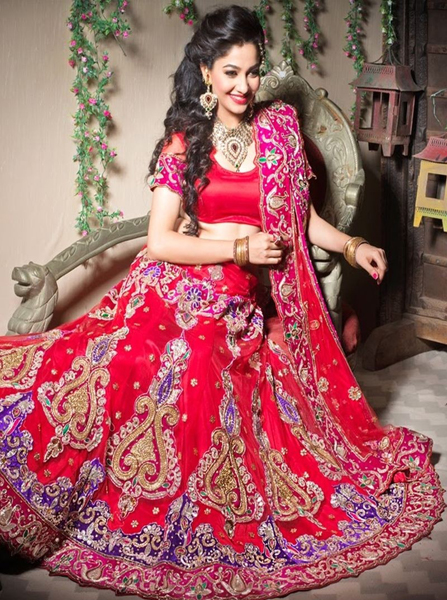 I recently attended my friend's wedding and as usual as a friend I was looking forward to seeing my friend's wedding lehenga. No wonder, one of the most important aspects of the entire wedding preparation process for any bride is to buy the best wedding dress in which she will look stunning. However, this is not a simple and easy task to buy the perfect lehenga, as you need to consider various things in mind. But, the process of selecting the lehenga is not always fun as you are not sure what kind of wedding lehenga are you looking for. If you will not consider a few things in mind it might be you will end up buying a wrong outfit for yourself and mess all the things. So, here are some simple tips you should keep in mind while shopping for your wedding lehenga.
Don't shop with all family members: Lehenga is the most important outfit and it should be definitely really awesome. Most of us believe that we should always go with our family and friends to buy this important outfit. But, the biggest drawback of taking your whole family and friends with you at the time of lehenga shopping is that you will get different opinions. In such a situation it will become more complicated to take decision and finalize a lehenga. Therefore, it will be best if you go along with your mother and closest friend or sister who will always give your genuine opinion.
Don't start shopping too early: Clothing trends keep changing and after very two or three months the designs and patterns change. Buying a lehenga too early can stand a risk of that dress getting outdated or old fashioned by the time you wear it on your wedding day. So, it is always suggested that you buy your wedding lehenga just before a month of your wedding. You should always keep that in mind that you need to get it stitched, altered and finished well before time. In case of minor delay or fitting alteration you can get it done before your wedding day. So plan accordingly, to avoid any fashion blunder on your big day.
Search online to know latest trends: Before you actually go out for shopping do some homework. It is really important that you should do online search about the latest trends. You should also check the colors, themes, work, styles, different work and fabric for your wedding lehenga. You should also check for their price tag as well, so you will get a good idea about the price range as well. This will help you a lot while going for shopping as you will be aware of the price and you can get the best deal and bargain well with the shopkeeper.
Know your budget first: Before you move out to buy the wedding lehenga, it is better that you should be aware of your budget. You will also have an estimated cost in mind that will help you to buy the best thing within the budget. You might get tempted by the idea of visiting an expensive showroom just for the trail. But, if during the trail you liked something really expensive, then it might be difficult for you to be happy with the one that fall in your budget. Therefore, it is good to know your budget first.
Avoid places that are not in your budget: While going out for shopping for your wedding lehenga try not to visit such places which are too expensive. It might be that you will end-up burning more money than your estimated cost. Therefore, it is always good that you should go in such places for shopping which are within your budget.
Avoid trying too many dresses: While going for shopping most of us get tempted by trying all available dresses within our budget which are available in the shop. But, if you will try too many dresses, there are high chances that you would end up getting confused. It will also be time consuming idea as well and it will be difficult for you to choose one. So, try to resist the temptation of trying too many dresses before you finalize one, as it will increase your frustration as well.
Take a trail to check fitting: The wedding dress is usually quite heavy, and it is a bit difficult to handle and carry it. On the other side, you should also remember that you are going to wear heavy jewelry as well with this dress which will also make you a bit uncomfortable. Even you will not sit all the time during the wedding day as you will have to bend down and meet people and stand for long sessions of photos. So keep all these things in mind before you finalize your lehenga. Therefore, a little bit of difference in size could make you uncomfortable. It is very important to check the fitting of your dress to ensure that you will not feel uncomfortable on your wedding day.
 LoveVivah.com matrimonial portal provides thousands of bride and grooms profile looking for wedding. Welcome to create matrimony profile for marriage.