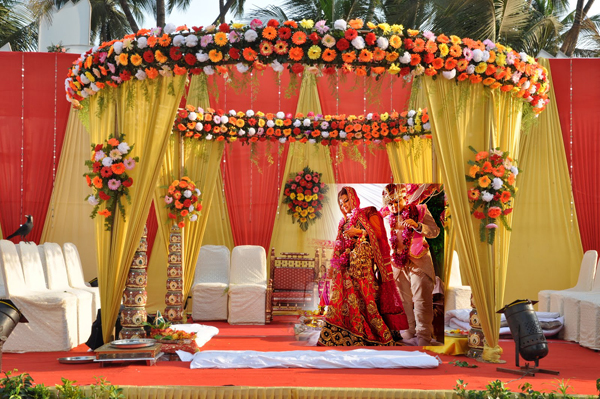 Wedding day is one such day when you want everything in place. You must have planned a lot for this special day. Be it a small family affair or a big gathering you need a wedding venue well decorated and up to your expectations, standard and taste. To meet your expectation for decorate of the venue you need a decorator who is perfectionist in his/her wok and take off your worries. He/she will provide you perfect wedding decoration solutions within your budget. Wedding decoration is not just about selecting the color combination and flower decoration, now a wedding decorator has to think beyond the routine decoration. You can minimize your worries by hiring a professional wedding planner. A wedding planner should be expert and should have some experience as well. But there are certain things, which you should keep in mind while selecting a wedding decorator.
Well-known in field: Before choosing a wedding decorator you should always consider his/her reputation in the market. The wedding decorator should be a well-know of the field. A good wedding decorator is committed to provide you quality products, end-to-end solutions, desired look, themes and unmatched services. The professional decorator will go extra miles to meet your expectations. He will keep all things in mind like meeting the deadlines, completing the decoration well-before time, decorating the place as per your ideas and proving the best decoration within your budget.
Well-organized: The wedding decorator should be well organized and planned. If he/she is having another event on the same day he/she should ensure that all your requirements must be well-taken care and you are getting the quality work and desired decoration.
Good knowledge and aware of latest trends:  A good wedding decorator should have enough knowledge of the industry and able to offer you enough options according to latest trends of the market. He/she should be ready with various themes and concepts to give you different options and recommendations. He/she should be well aware of the latest trends, so that he/she can offer you something trendy if you are looking for something really unique and trendy.
Mock decoration: He/she should be a professional who understands your requirements and able to create magical event. A true professional designer & decorator is a good listener, communicator, organized and detail-oriented to assure the quality work. He/she should be able to show you mock decoration that will help you to get the feel of actual decoration and visualized the decoration of your wedding day. This mock decoration might include backdrops and centerpieces, making sure that you are 100% thrilled and confident about the decoration.
Creativity at its best: A professional designer & decorator should be creative enough to offer you best creative work within your budget. He/should be able to decorate the venue so creatively that it will create a WOW factor. Couples who are specific about the style, their taste, color, themes and other nitty-gritty of the decoration need a creative person to meet their expectations.
Finalize a budget: The most important thing in your wedding decoration is budget. Before you finalize a designer, it is important that you should be well aware about your budget and maximum spending limit. A good decorator should be ready to offer you the best available solutions within your budget. Ensure that you are not going beyond your budget to get a very fancy decoration. Always remember the bigger the place, the higher will be your decoration bill. You can also ask for some discount to reduce your budget. Always remember that your decorator knows how to offer you the best solutions within a limited budget.
LoveVivah.com matrimonial portal provides matchmaking for brides and grooms in India looking for wedding.