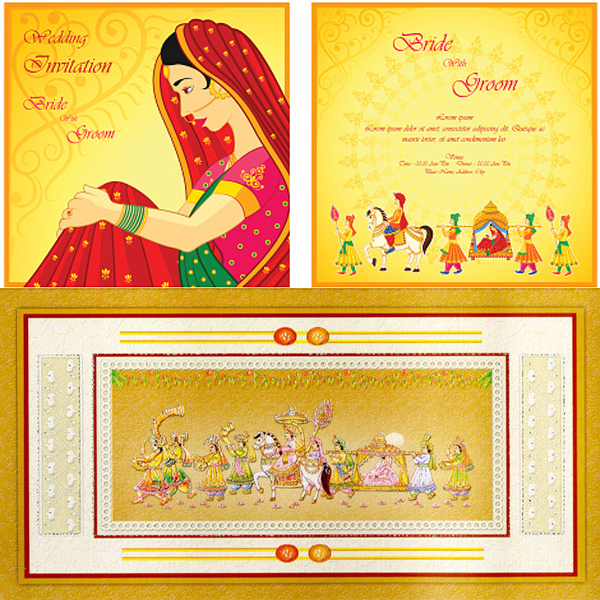 Wedding is such an amazing moment of your life that it brings lots of joy and happiness in your life. If your wedding is fixed and your wedding day is round the corner, the thing which is really tiring is selecting a nice wedding invitation card, getting it printed and distributing it. Earlier, people use to visit different printers or printing market to get their wedding cards printed. But, the online industry has made the task easy for everyone. Now, you can select your wedding card online and get it printed too. This sounds really simple and easy, but you need to pay attention to a few things before choosing a perfect wedding card.
Choose a design to match your style:  A nice wedding card design works amazing. You should choose a wedding design, which is smart and powerful and innovative. There are plenty of options available in traditional and western style. Nowadays, you can also get your wedding card customized and choose a design which is similar to your wedding theme or venue theme. However, you can also choose a trendy design such as cake box invitation, caricature style invitation card dry-fruits box wedding card, video book invitation and scroll invitation card. You can pick any of these cards based on your choice and taste.
Chose a perfect color: In Indian wedding, colors are really important and play significant role in wedding. A vibrant color can make your card live and bright, whereas a dull color theme can make your card boring. You can choose single color theme for your wedding card or you can also go for two or more colors for the wedding card. But, ensure that you are not choosing too many colors and spoil the whole theme of the card. Pick a perfect color theme for your card to make it as special as your wedding. Choose a perfect color theme in some nice eye catching colors like golden, red, silver, green, maroon, mustard, pink, magenta and light violet color are considered as auspicious colors for wedding cards.
Compare different wedding cards: Before you finalize one card, it is good if you compare different wedding cards. Compare the cards on different parameters like color combination, size, theme, packaging, presentation and more importantly pricing. Besides, consider delivery, time period, best deals, discount offers, paper quality and uniqueness in mind.
Use your words correctly: When you are writing something really special, be choosy about your words. Use your words creatively and glamorously. Write usage of words with some creativity can add more colors and weightage in your wedding message. Don't be so casual in your approach. Use your creativity to write your wedding invitation uniquely.
Ask for a sample: It is always advisable to ask for a sample copy before buying or placing your order.  You should ask for a sample card with double check the text, location, date, time, names and other details, paper quality, printing style and packaging. After checking all the things, you can place your bulk order.
Ensure timely delivery: The timely delivery of the wedding card is very important. As you are supposed to send the cards to your relatives, friends and family members, therefore, timely delivery and distribution of cards is really important. Ensure that you are getting the timely delivery of cards.
LoveVivah.com Telangana matrimony site provides brides and grooms profiles for marriage in India. Check out your future spouse from hundreds of matchmaking.