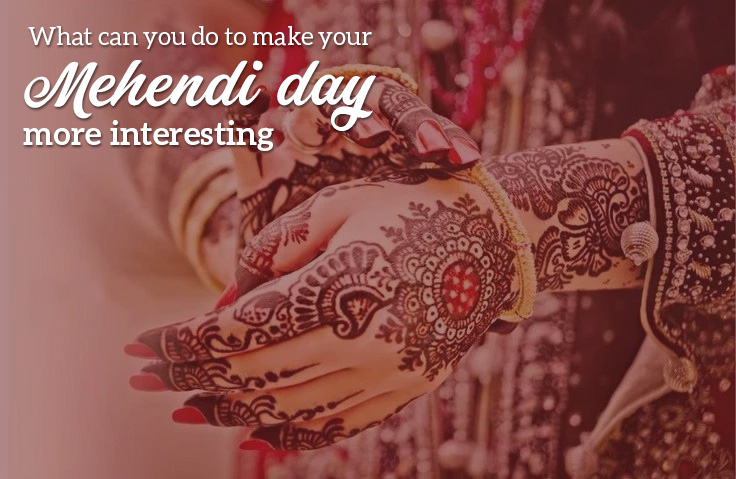 Indian weddings are very elaborate, and the functions sometimes go on for close to a week. Mehendi is one such pre-wedding function, which is more related to the Indian bride, though in some families even the Indian groom is applied mehendi. As most mehendi functions are arranged at home, it is usually the duty of the hosts to keep their guests occupied and entertained before the wedding chaos begins.
Organizing a mehendi ceremony takes a lot of planning as it is not just limited to adorning one's hands and feet, singing, dancing, and the food is also an essential part of the entire ceremony. To make it trendier and exciting, games and costumes are also made a part of the occasion. As this is a more relaxed function, and generally limited to the closest family members, you can make it interesting by planning some family favorites.
Arrange for an eating competition – Not just children even the elders would love to participate in it. Have an ice-cream or a rosogulla eating competition. You can give away gifts to the winners.
Antakshari Competition – Another family-oriented game. Make groups and play this old favorite. This is one game which attracts both the young and old alike. Wedding songs create the atmosphere for the occasion.
Hire musicians – A drum player can add a lot for such an occasion. The dancers in the family get to shake a leg, and it is also a prelude to the sangeet ceremony. It makes the event more traditional and enjoyable.
Set up a drink and ice-gola stand – Let your guests mix up crazy concoctions and enjoy ice-golas while they revive old memories. Wedding are the occasions which present a chance for all relatives to meet, and while everyone is catching-up let them enjoy some old favorites. Mehendi is the only wedding occasion which is more intimate, as it is limited to the family and some close friends.
Put up a Board or a Wall – all your guests can give you advice on how to conduct yourself after the wedding. It makes a pleasant memory of the special day of your life.
Photography Session – This is the ideal day to have a family photography session. Everyone wants to get their pictures taken with the relatives, and this is a perfect occasion. Arrange for some impressive backdrops, and if possible, ask the photographer to make instant prints and give it to your guests as souvenirs.
Arrange for a beautician – A small gesture for your guests which will make them remember your special day forever. Anyone wanting a quick hair, or a nail-job done, doesn't have to run all the way to the nearest parlor.
Caricature and tattoo Artists – The kids will thank you for this gesture. Kids and adults alike love to get themselves sketched and inked.
Carrom and Chess competitions – So the men in the family don't feel left out arrange for chess and carrom competitions. It will not only keep them entertained but will give them a chance to bond over a fun game.
These are some small tips and gestures which make not just your day special, but it will make your guests feel wanted and welcome.
To help organize a Mehendi Ceremony, you can also avail services from the experts. Some Matrimonial sites also offer such add-on services to its members or atleast they can offer multiple ideas to make the event a memorable one. Depending on the budget, matrimony sites offer package services though event management agencies.