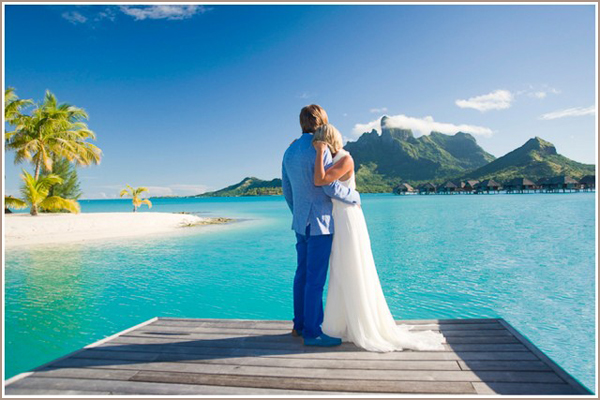 Honeymoon is the most awaited event after marriage. As soon as the wedding date is fixed, couples start dreaming of their honeymoon. People around you like your family members, friends, peers, and relatives start giving you different advices related to honeymoon.
Generally couples have a pre-set notion about their honeymoon. They only refer to those things which they have heard from others, read online, in newspapers, or magazines. Therefore, you as newly couple start filling your head with their advices and thoughts for your honeymoon. When you start planning about your honeymoon, try to ensure that if you are going in right direction and don't have any confusion regarding honeymoon. A perfect honeymoon is all about a perfect destination, filled with fun and excitement. Here are five common honeymoon myths that you want to consider. This is the first time when you and your life partner is going to take this first exciting and fun filled step together.
You need to be likeminded to enjoy honeymoon: Generally people believe that to enjoy your romantic honeymoon to the fullest you need to be like minded. You need to agree over things and think and act in sink and in similar manner. But, hold on, how could you forget the fact, opposite attracts. To enjoy your honeymoon it is not important that you need to think and act alike, but you need to act in a manner that you will get maximum out of your honeymoon.
Honeymoon is just about fun activities and excitement:  Most of the people believe that honeymoon is all about fun and adventurous activities, excursion, visiting different places and full of excitement. But, it is much more than that. Your honeymoon is all about building life-long relationship & understanding. Not rushing for things rather enjoy the company of each other, romancing, spending quality time together and capturing some precious moments and happy memories for life time.
Honeymoon period ends soon:  This could be right if you relate it with the situation. We relate this with your return ticket. Generally, you will listen the statements like now you are back home. So your honeymoon is over. It is true that that the official honeymoon might be over, but you can continue to enjoy the same love and passion afterwards too. You can build your relationship by devoting more time together and keeping aside all personal issues. This way you can build a strong relationship and never let your honeymoon end.
Honeymoon is only for newly-wedded couples: No, that's not true! It is not a mandatory notion that only newly-wedded couples can go for a honeymoon and older couples can't go for a honeymoon. You can plan your honeymoon any time after marriage. It is not mandatory that only newly-wedded couples can go for honeymoon. There is no written rule book for booking your honeymoon package and it has nothing to do with years of your marriage.
Honeymoon period has nothing to do with your level of intimacy:  The intimacy in your relationship has nothing to do with your honeymoon. In fact, honeymoon period of love relationships is the critical stepping stone, the true gateway of starting and nurturing a long-lasting relationship. This is the quality time, where you both can spend good time together in knowing each-other better. To build the right level of understanding and intimacy, it is really important that you put all your efforts in developing the right intimacy level for a smooth life journey.
Honeymoon is for rich only: In India, there are many families who believe that honeymoon is just for rich people only. Only they can afford it. You can't plan a budget honeymoon. You can't visit a place within Rs. 10K or Rs. 20k. But, that's not true, there are many places in India, where you can plan your honeymoon within Rs. 10K-Rs. 20K. So, it is not an extravaganza always. You can plan it according to your pocket.
LoveVivah.com matrimony portal gives verified profiles Indian brides and grooms for wedding. Get registered for suitable spouse for happy marriage.