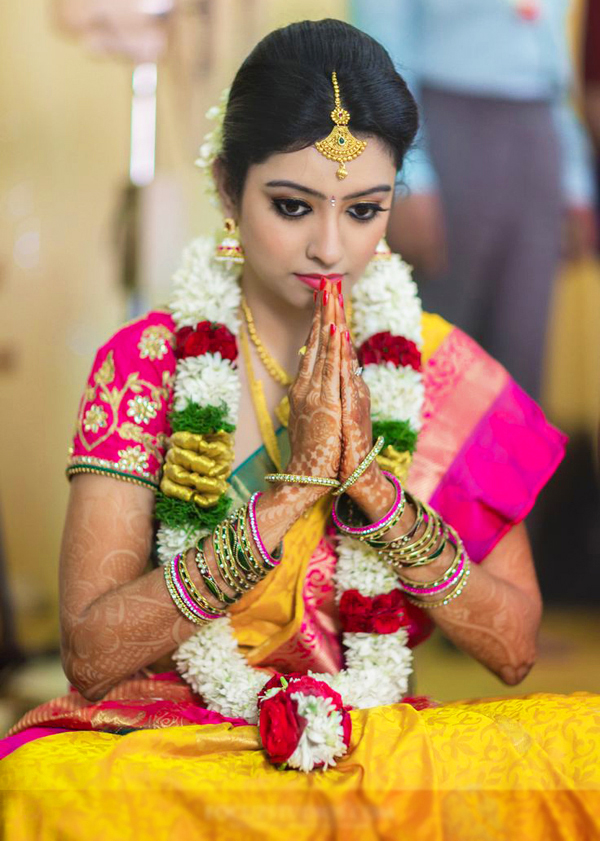 When you think about a Kerala bride, there are a few things which you always recall in your memory like a beautiful kanchipuram white saree with golden border and the bride wearing heavy gold jewelry. However, with different culture and traditions across the southern states, you still find various unique things in their rituals and Kerala wedding customs. Let's take a close look at the some of the important things of Kerala bride make-up for marriage.
Special hairdo: Generally, you can easily see a Hindu Kerala Malayali bride in braiding hair or pinning some hair then leaving the rest to cascade. They also love to decorate their hair-buns and hairdo with fresh strings of jasmine flowers and a gold mangtikka to decorate the forehead. But, if it's a Christian Kerala bride, then you see her wearing a nice white veil and a tiara for her hair.
It's all about gold jewelry: Gold is an integral part of Kerala matrimonial rituals and you can't imagine a Kerala bride without gold jewelry. Gold clad bride symbolizes the financial status of the bride's family. You can easily notice bride wearing more than two-three heavy long necklaces. You can see many Kerala brides wearing kasu mala, a kind of gold necklace made of gold shaped coins and its length touches the waistline of the bride. It signifies the financial status of the girl's family and one of the primary pieces of jewelry worn by Malayali brides from prominent families.
Gold chain: The gold chain is another important jewelry piece for bride. It may vary in shape, size, weight and length as well. Some of the traditional chains are Poothali, Elakkathali, Manonmani and Kuzhimini. These chains can enhance your overall looks and compliment your beauty and you can consider these as important part of your bridal jewelry.
Temple jewelry: This jewelry is very popular among Kerala brides. This temple jewelry have idols of Gods and Goddesses. It is studded with semi-precious stones in red, green and white along with different colored stones.
Minnukettu/Mangalsutra: The tradition of Mangalsutra or popularly known as Minnukettu in Kerala is a Hindu custom adaptation by Syrian Christian from Kerala. It is similar as mangalsutra in any Hindu wedding. Its design generally consists of a small leaf pendant made of gold. You can also see a cross on it made of different  beads. It is looped through thread made from twenty one threads taken from the bride's wedding saree. After seven days of wedding, this is put in a gold chain and worn as a symbol of marriage.
Kamarband, an essential jewelry: This is one of the most essential jewelry worn by all Kerala brides. It is a mandatory custom to wear this kamarband on her waist and add definition to the kasuvu saree.
LoveVivah.com Malayalam Matrimony provides verified profiles of Kerala grooms and brides for wedding. Register now to find your life partner.