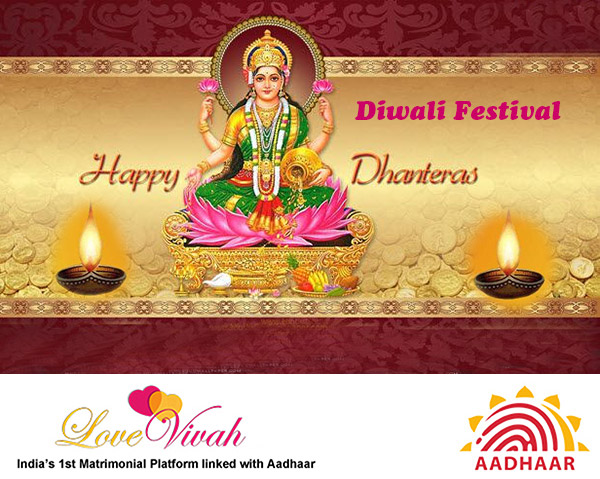 Dhanteras, is also popularly known as Dhantrayodashi. It is one of the most important and auspicious Hindu festivals celebrated in India. This auspicious day is celebrated three days before the Diwali festival. If this is your first Diwali after marriage with your in-laws, then you must be very excited and busy in planning for the festival. This special festival has its own importance and you plan a lot of things for this festival.  On this day you pray to Goddess Lakshmi to fill your life with prosperity and good fortune. As a ritual of this Dhanteras festival, people lit the house with lamps and lights and pray to Goddess Lakshmi. There are many things which you can also follow and make this Dhanteras festival memorable with your in-laws. Here, we are sharing some simple ideas to celebrate this Dhanteras in style.
Make Rangoli: This is a very beautiful tradition of this festival. You can make Rangoli in your home or in puja ghar or at the entrance of your house as tradition. It is the way to welcome Goddess Lakshmi to your home by making beautiful and colorful designs. It is also believed that it will keep the ill spirits away from your home.
Buy something special for your in-laws: This is your chance to give something special to your in-laws on this auspicious festival. Try to buy something unique and useful for them. On this Dhanteras you can also gift them idol of Lord Ganesha or some other God or Goddess. Besides, you can also gift them something else which you think will be liked by them. If budget is not a constraint for you, you can also buy something in gold and silver for them as gift.
Wear something trendy yet traditional: You can't imagine a perfect celebration without a party perfect dress. Don't forget to buy something traditional yet trendy for you and other family members as well. If you have not bought something special for them, then you can give them a traditional dress on this Dhanteras. You can wear some traditional saree or latest suit on the day to make it special.
Arrange a small family party: You can also plan a surprise party on the day of Dhanteras. Prepare special food for puja and dinner as well. Don't forget the taste and interest of family members while making the food list. No puja and celebration is complete without sweets. Make some traditional sweets. You can also organize some special games/competition or Bhajan Sandhya to make it special.
Light up your home with lamps: Light up your home with traditional lamps and lights. You can use different lamps of different shapes and sizes. You can buy some designer lamps as well. These earthen lamps are available in different sizes, colors and shades. Don't forget to light up every corner of your home with these beautiful lamps and lights.
Organize special Lakshmi Puja: On the auspicious occasion of Dhanteras you can also organize the traditional Lakshmi puja to welcome Goddess Lakshmi to your home. You can make footprints of Goddess Lakshmi with rice flour and vermilion as tradition. Light up thirteen earthen lamps as tradition in your Puja Ghar as tradition and offer sweets and food to Goddess Lakshmi to receive her blessings.
LoveVivah.com Rajasthan matrimonial site gives profile of boys and girls matching for wedding. Join Now for free & search through millions of Aadhaar linked profiles!