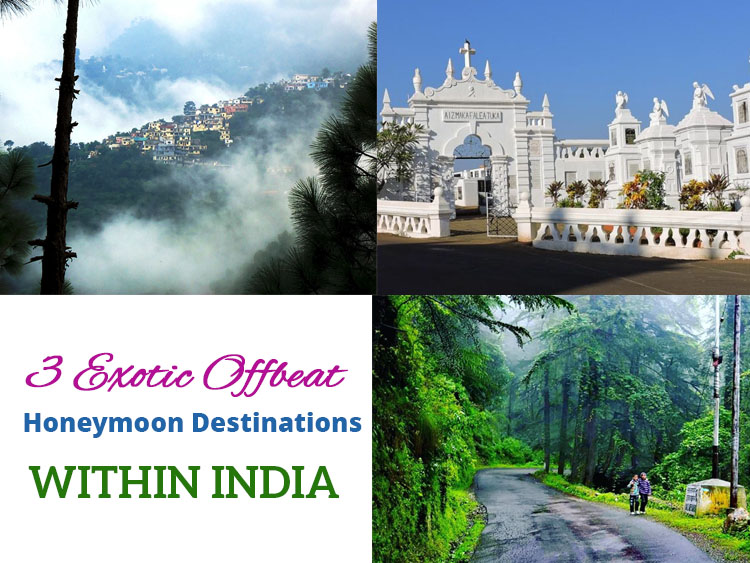 When it comes to discovering and exploring new lands, or choosing exotic destinations for the honeymoon, most newlyweds jump to searching for foreign destinations and often overlook what's right in our backyard, closer to home, comparatively way inexpensive and yet equally or more exotic.
Here are three exotics, offbeat and yet, as compared to foreign locations, way more pocket-friendly destinations for your honeymoon plans and to kick-start your matrimonial adventures with finesse.
Kasauli, Himachal Pradesh
Typically, all newlyweds desire to disconnect from the world and disappear into the solitude and solace of exclusive togetherness. For this, what is a better destination than an exotic British India built a town in the distant foothills of the Himalayas?
Kasauli is a small town in Himachal Pradesh and sits tall and proud at a decent height of 1927 meters.  What makes Kasauli exotic and quaint is the fact that it was built by the British, during their reign of pomp and glory and Kasauli till date retains that flavor of British India.
Though adventure tourists come here for trekking or adventure tourism, Kasauli is never a crowded, noisy destination buzzing with endless options of activities. Most urban tourists find Kasauli not too busy and engaging and let it pass. For precisely this reason, it has become a honeymoon paradise, an exotic locale ideal for matrimonial solitude and unhindered space for newlyweds.
Chail, Himachal Pradesh
Chail is the same quaint and quiet hill station that Bhupinder Singh, the famous Maharaja of Patiala from the late 19th century British India used to love to reside in as his summer palace retreat. It is famous for housing the world's highest cricket ground, situated at an astounding height of 7500 ft.
Chail is a discreet offbeat destination ideal for newlyweds seeking matrimonial bliss and passion. Besides the lush green scenic beauty of the Himalayan foothill, this place has the beautiful Sadhalpur Lake. On the lake, you'll find a much popular Lake Restaurant, serving local oven fresh snacks and tea.
The other attraction that really makes Chail exotic for honeymooners is the Chail Palace Hotel. It is an exotic and richly adorned heritage hotel, filled with plush vintage furniture and palatial interiors, richly reminiscent of the royal era and the British period. A quiet and serene stay at this classic beauty of a hotel will leave any newlywed Indian bride and groom feel transported to a distant and dreamy paradise of romance.
Aldona, Portuguese Goa
Now, before you frown hearing an overrated name such as Goa, please know that the Portuguese experience of Goa is completely different and superior to the typical beach and bar hopping Goan getaways. If you really want to have a colonial and exotic experience of a bygone plush and palatial era, you might consider booking your honeymoon stay in an ancestral Goan-Portuguese house, with an original Portuguese Goan family.
There is one specific Goan-Portuguese home in Aldona, belonging to the Amarals.  The house goes back to the pre-British era, being at least 500 years old. The Amaral family have opened up the home for exotic homestay options for offbeat travelers, and newlyweds are sure to relish this unique experience.
Staying in one of their archaic, vintage vast rooms, overlooking the scenic beauty of Aldona, while devouring the delicacies prepared by the home cook, your matrimonial bliss, and conjugal initiation are sure to feel satiated like a Portuguese royal couple from the bygone era.
LoveVivah is committed to making your matrimonial experience satisfying, delightful, and successful. That's why we feature only the best and the most eligible Indian bride and groom on our matrimonial site. We are committed to ensure that you meet only the best and the trustworthy and verified profiles on our matrimonial site.