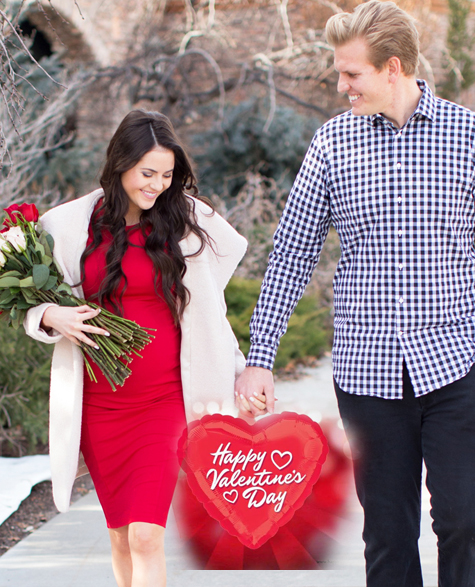 Are you planning to celebrate your Valentine's Day with your fiancé? Do you want to look like a Diva on this Valentine's Day ? This is one of the most awaited day of the year when all lovebirds want to celebrate this day together. To woo your man are you making some plans? You can't miss this important occasion to look like a diva. Whether you are going for a romantic dinner date or for a movie, still you have to look stunning. Here are some awesome dressing tips to look like a Diva on this Valentine no matter wherever you go.
Beautiful knee length dress: To look super cute and awesome on your first date with your fiancé you can try a knee-length dress in pastel or some vibrant shades. Depending upon your taste and color complexion you can choose your dress. Put nice and light make-up with your beautiful dress. Since this is your first date, so you don't want to miss a single opportunity to look gorgeous, but don't do over of anything. Finish off the look with a cute bracelet, stylish bag and matching footwear. Don't forget to wear a nice short coat or jacket with it.
A stylish short one-piece: This is one dress which looks nice on almost all the girls. If your man is taking you out for dinner then you can go for a stylish one-piece dress. You can choose the length of the dress depending upon your comfort level. If you are confident enough to carry a short dress with ease then you can go for shorter one, but if you are not confident to wear short dress then you can go for a decent length dress. Accessorize your outfit a classy clutch and elegant jewelry and strappy sandals.
Maxi dress: This is very much in trend and you can see many Bollywood divas wearing this maxi dress on various occasions. You can wear this beautiful maxi dress on a candle light dinner or even when you are going out for movie. Complete your looks with a half-up-half-down hair style and some nice antique jewelry.
Ripped jeans with some cool t-shirt: If you are going for some picnic or to some century park then this is the ideal outfit to look cool and classy. You can wear your favorite ripped jeans with a cool t-shirt to look decent. You can also pair your ripped jeans with quirky sweatshirt. You can go for some cool fishtail braid, a pretty pink lip-color and sneakers.
Long-comfortable skirt: If you both are planning to watch a romantic movie and dinner at your favorite hangout place, you can wear a long comfortable skirt to look stylish yet elegant on your movie-dinner date this Valentine's Day. Enjoy this long-fit skirt in print, designs, plain solid color with some nice embroidery or border. You need not to do much with your hair as if you will go with small curls still you will look elegant and gorgeous in it.
Fiery Red: This is one color which you can never miss if you are planning your date with your fiancé on Valentine's Day. You can choose any of the outfit in red color to look stunning. You can wear one-piece or for long-dress or even nice net frock in red color will also charming. Try and experiment with your looks in this bold color to make your own style statement. To complete your looks try some messy buns or curls for styling your hair.
LoveVivah.com Haryana matrimonial site gives brides and grooms profiles for wedding. Find your life partner with updated marriage profile.