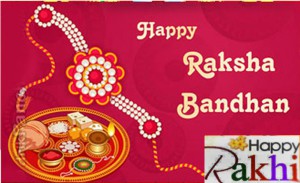 Raksha Bandhan is festival of Hindus which celebrated between brothers and sisters in family. It falls on the Rakhi Purnima and known Rakhi festival in India. It is also celebrated by the Jains, Sikhs along with Hindus in India and by Indian origin people in world. Traditionally on Raksha Bandhan, sisters tie a Rakhi (Sacred Thread) on wrist of her brother. It signify the love and prayers for her brother's good luck and the brother vow to protect her lifetime. This year the Rakhi Purnima falls on 29th August 2015, Saturday.
The occasion to celebrate brother-sister and family values ties between members to show the social culture of India. On the Raksha Bandhan day, both brothers and sisters with new dress in presence their parents starts in front of a lighted lamp. Then the sister ties the Rakhi on brother's wrist with a prayer for the happy and prosperity of her brother. The sister applies Tikka on the forehead of brother and make Aarti with Diya. Then her brother pledges to protect her by take care of his sister lifetime. Then after the sister then feeds sweets to brother, with her hands. The brother offers his sister with gifts, clothes, money and jewelery.
The brother wear the Rakhi throuth out day in the school or work, to mark the festival of Raksha Bandhan. In case the sister and brother living the diferent places, then sister can mail the Rakhi before Raksha Bandhan day with wishing her brother happiness through the Postal or courier services. In the Indian culture show the great tradition of the family and social harmony. There are many social functions organized in the school, institutes, offices to celebrate the holi festival.
LoveVivah.com matrimonial services in India wishes Happy Raksha Bandhan to all the Indian brothers and sisters.