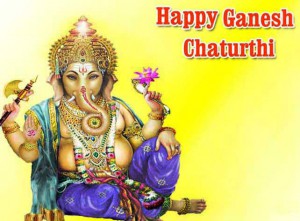 Ganesha Chaturthi is one of the most widely celebrated Hindu festival for the Lord Ganesha. , the elephant-headed. This is also called as Vinayaka Chaturthi in different parts of India. The festival falls on the month of Bhaadrapada and Shukla chaturthi (4th day) of the Hindu calendar. This year is on Thursday, September 17 2015 which is public holiday accross the country. Generally celebrated for 10 days from the starting to Anant Chaturdashi (14th day) of Bhaadrapada month. Now days the celebration includes big clay images of God Ganesha in the puja pandals for ten days worship by the people.
According to Hindu mythology, the Goddess Parvati, the consort of Shiva made Lord Ganesha from sandalwood paste figure which she breathed life. Lord Ganesh tasked for guarding her mother Parvati's door. At that time Lord Shiva returned and Ganesha didn't allow Shiva to enter home. So there angry Shiva severed the head of the child Ganesh. The devas found the head of the elephant which lord Shiva fixed on Ganesh's body. Then he blessed elephant-headed boy back to life and declared his name as "Gana Isha" (Lord of Ganas).
The Gunesh Puja is celebrated in every states of India. It is biggest festival in in states of Maharastra, Goa, Karnataka, Telangana, Andhra Pradesh, Odisha, West Bengal, Gujarat, Tamil Nadu etc. and Southern India. However, most famous Gaensh Usthav is observed in the Mumbai, Pune and other cities of Maharastra state. Also celebrated widely in Nepal, Mauritius and people of Hindu diaspora living in the United Kingdom, United States, Canada, Australia countries. After the 10 day long celebration the Ganesh idols are immersed in water lake, sea beach with officially alocated places by the Govt authority. The Hindus install the images of Ganesha in homes for worship.
Important days during Ganesh Puja are celebrated with welcome Goddess Gauri.
Ganesh Chaturthi (Ganesh welcome) – "Bhadrapad Shuddha Chaturthi"
Rishi Panchami – "Bhadrapad Shuddha Panchami"
Gauri Aavahan (Gauri welcome) – "Bhadrapad Shuddha Shashthi"
Gauri Poojan (Gauri Pooja and lunch) – "Bhadrapad Shuddha Saptami"
Gauri Gaman (Gauri sending back) – "Bhadrapad Shuddha Ashtami"
Anant Chaturdashi – Ganesh immersed in water (Ganesha going back) – "Bhadrapad Shuddha Chaturdashi"
LoveVivah.com marriage matrimonial site wishing your family Happy Gaensh Chaturthi.
"Jai Ganpati Bappa Morya"