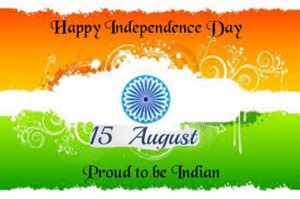 India celebrates the Independence Day on 15 August on every year commemorating the nation's freedom from the British Empire on 15th Aug 1947. It is observed as National Holiday across in India. On this day, the first Prime Minister of India Jawaharlal Nehru raised the Indian National flag at Red Fort in New Delhi. From tradition, the prime minister raises the national flag and address the nation with speech. This is holiday for flag-hoisting ceremonies, national salutes, parades and various cultural events are arranged in all the states and union territories of India.
Peoples display the national flag on their dress and homes, listening to patriotic songs, patriotic movies and greeting family and friends. The President of India delivers the 'Address to the Nation' on eve of 15th August. 21 gun shots are fired in honor of the solemn occasion after the speech, the prime minister development of country. He pays tribute to the leaders of the Indian independence movement. The father of nation Mahatma Gandhi is remembered on the this day with debate in the education institutes. Then the 'Jana Gana Mana', the Indian national anthem is sung in ceremony. After the speech of Prime Minister, a march of the Indian Armed Forces and paramilitary forces at the Red Fort in Delhi. Similar types of events organized in all state capitals where the Chief Ministers respective state unfurl the national flag.
Flag hoisting ceremonies are organized in governmental and private institutions India. The children do kite flying with nationalism celebration. The Indian diaspora who are living outside India also celebrates Independence Day across the with lot of pride, parades and pageants. In New York, US cities the 15 August is celebrated as 'India Day' by the NRI living in the USA. The patriotic songs in Hindi on TV and radio channels played alongside flag hoisting ceremonies. People wear Khadi hand-loom clothing as the national symbol of freedom movement with India's various cultural traditions.
LoveVivah.com matrimony site wishes Happy Independence Day to India's citizens.