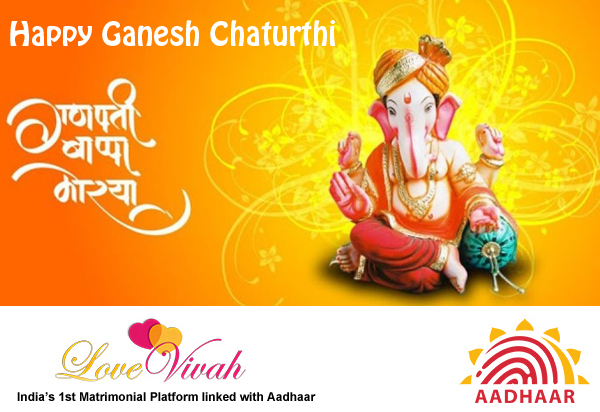 Ganesh Chaturthi is one of the most important festivals of Hindu's and celebrated in different part of the country. Celebrating festivals like Ganesh Chaturthi and Durga puja with family gives you a different happiness and pleasure. You see a different excitement among people when you plan to celebrate something with family. This festival is generally falls in the month of August or September. It is 10 days long festival and it differs from place-to-place. Lord Ganesh is a deity who bestows good fortune, wisdom, success and prosperity. During this festival, the Hindu's bring idol of Lord Ganesh to their homes and worship it.
Ganesh idol emplacement: Generally, people decorate the homes for emplacement of Ganesh idol. Even in different places people decorate big pandals like Durga puja and place beautiful and big idols of Ganesh. The place where the idol is supposed to be places is fully decorated with flowers, colorful papers and thermocil cut-outs of different shapes. These pandals are decorated so beautifully that you can't take your eyes off from these pandals. Even at some places there are competitions for pandal decoration and other activities to add more fun element.
If you are planning to emplace the Ganesha idol at home, then first clean the place thoroughly and decorate with flowers. People make various special food items for offering to Lord Ganesha. Besides, there are large numbers of sweets offered to the Lord Ganesha during the puja. No puja is complete without offering Modak to Ganesh, this is known as his favorite sweet and one of the main dishes during the Ganesh puja. Other dishes which are also included in the offering are Karanji, laddu, barfi, peda, vada, sundal and appam. First the idol is given a bath with scented water mixed with milk and then decorated with flowers. Then a lamp is lit and aarti begins. People read various stories of Lord Ganesh and chant bhajans as well. It is believed that chanting the mantras with complete devotion brings life to idol. People also believe that during this period, Ganesh visits the home of his devotees and bring prosperity and good fortune with him.
Special rituals of Ganesh Chaturthi: The Ganesh puja is performed in a special manner and almost all worshippers of Lord Ganesh follow the same ritual. There is a significance of number 21 in this puja. Therefore, people offer 21 Durvagrass blades and 21 Modaks. It is a perception that 21 number signify-5 organs of perception, 5 organs of action, 5 vital airs, 5 air elements and the mind. But, if you want to reduce the number, then you can do this according to your wishes and be flexible. All you need to have a clean body and pure mind. So, try to keep things simple, pure and focus on puja not on the things.
Food for puja: During the puja offer all the food items which are considered as favorite of Lord Ganesh. The offering should include items like modaks, coconut, cooked chana, jaggery, semolina, besan laddu, kheer and various fruits. However, his favorite food is modak and you can't ignore this important sweet.
Ganesh Visarjan ceremony: This ceremony is performed in the evening. The idol of the Lord Ganesh is carried to a sea or some water body for immersion. It is a very important part of Ganesh puja. The Ganesh idol is immersed in the water with some coins and flowers, with the belief that he is carrying all our burdens with him and dissolving them. This ceremony is known as visarjan.
LoveVivah.com Maharashtra matrimony site wishing your family Happy Gaensh Chaturthi festival. "Jai Ganpati Bappa Morya!!"