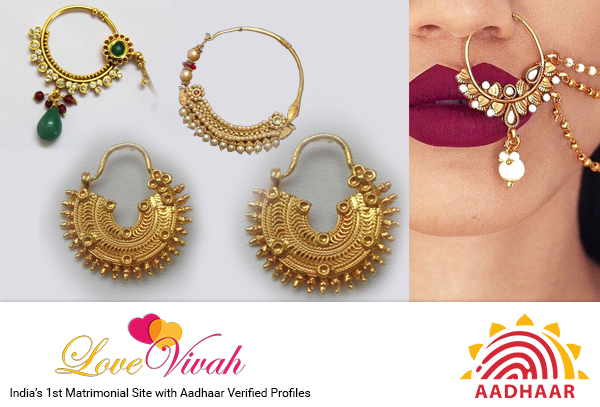 The bride is the show stopper of every marriage and as a bride it is your right to look stunning. As a bride you put a lot of efforts in buying your wedding dress and you want everything not less than best. You buy all necessary and matching jewelry for your wedding outfit and nose ring is one of them. In India, nose ring is very important ornament and considered auspicious in various religions and states. Different states have different type of nose rings. These nose rings not only varies in their sizes, but even in their shapes as well. You can't imagine a bride without a nose-ring or nose-pin. It is an integral part of bridal jewelry. Let's take a look at different types of bridal nose-ring and their importance in Indian culture.
Punjabi Nath: This type of Punjabi nath is very much popular among the Punjabi brides. These types of nath designs have mainly large or medium size hoops with no charms along with it. It has a long chain combined with hoop, connecting the hoop with the hairs. These types of naths are very popular and heavier version of nathani.
Laung: It is small clove shaped nose pin, which is popular in north India. You can easily see a north Indian bride wearing laung in her marriage. Besides, you can see many married and unmarried ladies wearing laung in various wedding functions and festivals. Laung is another popular form of nose ring which is popular among north Indian ladies.
Fan shaped ring: The fan shaped nose ring is popular among the Uttranchal and Himachal brides. These fan shaped nose rings are available in different shapes and sizes with lots of stones, pearls and even diamond studded. No bridal make-up is complete without these naths. A would-be-bride can't attend the wedding ceremony in Himachal and Uttranchal without wearing a nose-ring. The bigger the nose ring the more financially well-off the family of the bride.
Spoked nose ring: It is much popular in Uttar Pradesh and Bihar. The brides of these two states wear spoked nose-rings. The spoked nose ring is circular shaped with continues series of spokes running along the periphery. Most of such nose rings are designed much bigger, which generally falls on the lips or cover the mouth.
Mukuttis: Mukuttis are generally worn by the brides of Konkan and Goa. These are light weighted and round shaped small nose rings. However, the brides or Kerala and Karnataka also wear these Mukuttis with a twist. They wear it on both the nostrils. It is very beautiful and elegant piece of ornament.