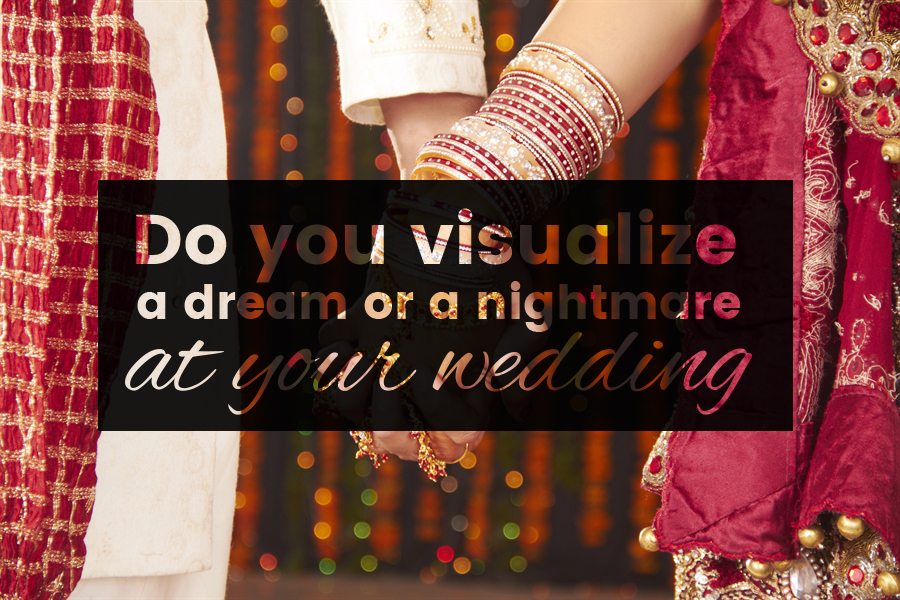 As the D-day comes closer what do you visualize- a dream or a nightmare. Most of the time the time just flies in making the arrangements that you just go with the flow without anything sinking in.
But as the day draws closer, your dream of a perfect wedding can turn it into a nightmare if things are not planned and organized well. Matrimonial sites can help you find your perfect one but organizing the wedding would need special expertize. Either you opt to arrange everything on your own, which can be satisfying yet chaotic & hectic. Or else you can opt for the services of an event organizing agencies. It works in the favor of the Indian bride and Indian groom to leave the planning to their professional hands.
If the Indian bride and Indian groom want to plan their matrimony on their own then as soon as the date for the matrimony is finalized, both families should work in tandem to turn it into a memorable event. It can turn into a clash of egos and bickering if both families don't agree on a plan and put it on paper. Sticking to a plan works best when planning a major event like a wedding. Make a monthly check-list for easy execution.
As Indian customs differ from one home to another, it is always better to discuss things up-front than making an issue of it later.
Always start with a Common List-
During a wedding there will be a lot of common functions that will be held together. Make a list of decorations, invitations, venue, and functions. Plan to the last detail and make sure that both families have identical copies, better yet make it typed copies as per each function.
Prepare a guest list-
Most problems originate where there are more people involved. Make a list of all people and then segregate them according to the functions for which they will be invited. Pass on the list to both families, because the groom's family needs to know who to invite and the same goes for the brides'. You don't want to ruffle any feathers by leaving out anyone important.
Customs followed-
Every family has their traditions and customs. And it is always better for both families to discuss them to the last detail so that there is no confusion at the last minute. By doing this, you also ensure that the relatives attending the wedding don't get a chance to point fingers.
Plan a Budget-
Estimate your costs and decide which family is organizing which function. Money is a culprit for creating the maximum confusion and trouble. Being clear on this issue keeps away bad feelings among the families.
Gifts List-
Indian weddings are all about gifts, and it is not limited to the bride and groom. It is given to all the closest relatives of both families. A finalized list should be exchanged between both the families, and the value of the gifts should be based on the relationship with the groom or bride.
Pick a venue-
Another thing which both the families should agree upon is the venue. Sometimes with outstation weddings, it becomes more difficult to decide on the location. It's usually more manageable for the family who has a lesser number of the guest list to travel.
Weddings are high-energy and chaotic occasions, but a little planning is all that is needed to make it memorable. For both the families, it is a new beginning, and it should not start on a sour note. Bad feelings which develop during weddings are carried throughout the life and sometimes ruins relationships beyond repair.