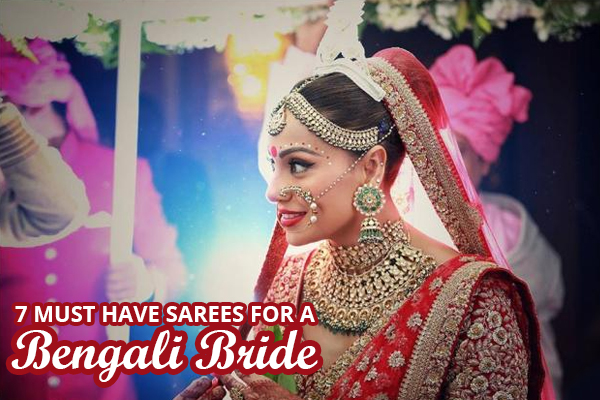 No matter how westernized we become saree still remains the most attractive and appealing attire for an Indian woman. Bengal which has been known for its tradition and customs since ages unknown is a perfect portrayal of the same. That too when it comes to weddings, you cannot overlook the significance of sarees. Thought of a Bengali marriage will bring forth the imageries of beautiful ladies dressed in authentic Bengali sarees and being the center of attraction with their captivating looks.
There are a wide variety of Bengali sarees with vibrant colors and looks and every Bengali bride must have at least one of each type in her wardrobe.
Korial Saree
The Korial lal pari saree is the most famous Bengali saree. It is a crisp white saree with a red border. It is a typical white sari with a red border, with a deeper shade of red and solid color in it. Married women generally wear this simple and timeless saree
Taant Saree
It is a Crisp and soft cotton saree. Though it now comes in many vibrant colors, but traditionally it is a white and red bordered sari and is something that every Bengali lady would have in her wardrobe.
Garad Saree
Garad is quite similar to the Korial saree. A non-bengali would not even be ab;e to differentiate between the two. Garad sarees are also white in color with a red border. However, unlike the Korial saree, Garad saree has a lighter red border with flower-shaped symbols and other motifs spread across that give it an attractive and feminine look.
Murshidabad Silk Saree
Silk sarees are not only famous in the northern and southern part of India, but even West Bengal has a plethora of lovely silk sarees. Murshidabad silk sarees are the most famous among the Bengal silk sarees. They are light in weight and have beautifully printed designs. They are ideal for small get-togethers as well as extravagant functions.
Dhakai Jamdani Saree
These were initially made in Dhaka, which was a part of West Bengal before partition. Hence the name derived as "Dhakai". However they are quite famous in the state of Bengal even today.  Jamdani refers to the typical style of print or design that you can see on this saree. It is almost transparent and woven with a mixture of silk and cotton. These are a must-have for high profiled events, parties, weddings and more in Bengal.
Baluchari Sarees
The origin of Baluchari sarees hails from a village named Baluchar in Murshidabad. These are silk sarees made of Tussar or pure silk, with floral designs running across the body of the saree, while the pallu is remarkable with scenes from Indian mythology, including the Ramayana and the Mahabharata.
Tussar Sarees
Tussar is produced in several places, but majorly in the town of Malda in West Bengal. Tussar silk is bit coarse in texture and is used to manufacture a varied range of silk saris in the state.  Typically, the patta and the butti style of this saree is famous among Bengali women.
If you are a bengali bride, you cannot afford to miss on any of the above sarees. And if you are looking for Bengali Grooms for marriage, you cannot afford to miss registering on LoveVivah.com Bengali matrimony site.