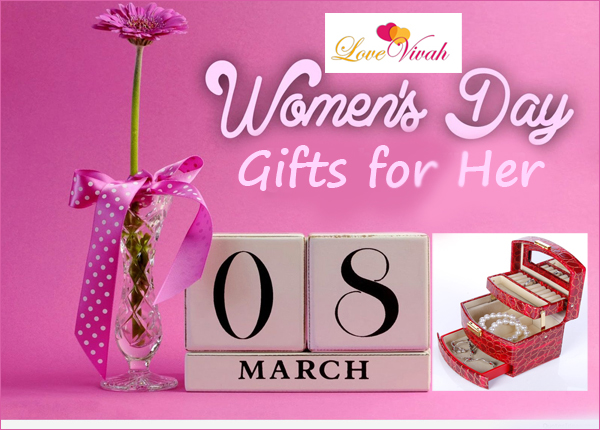 You can't imagine a day without your mother, sister, friend, girlfriend or wife. Women are real heroes of our family and without them this society is incomplete. To make your wife/girlfriend/sister/friend feel special on women's day, do something nice and special for them. This is your chance to show your love and affection to them and shower your love. Here, we are sharing some nice, interesting and pocket friendly gifting idea for her on Women's day.
Bunch of flowers:  Beautiful flowers are the best way to express your love and affection to her. After all, a woman is a special and priceless and a bunch of flowers is the perfect gift for the day. Pick her favorite flowers, get them decorated well and gift it to her on Women's day. Get ready to see the sweetest smile ever.
Gift basket: If you are searching for something different and unique, the gift basket is just perfect thing to pick as gift for her. These gift baskets are available in different sizes and with different goodies as well. You can buy a chocolate and cookies basket if she loves chocolates. You can also buy some body bathing and pampering kit for her or perfume baskets as well. There are other options as well like coffee mugs with some chocolates, soft toys, key chains and other small showpieces.
Buy her favorite book: If she is a book lover and she loves to read books, then this just the perfect pick for her. You can buy her favorite book or some latest best seller for her to bring smile on her face. You can also buy some motivational book as well to make her feel special.
Book movie ticket for her & her friend/s: You can also book movie tickets for her and her friends to make it more special and girl's meet-up. You can invite her best buddies to watch a movie with her and keep it a secret to see that special smile on her face when she will meet her friends in the theatre. It is important that you make a perfect plan to keep the surprise element alive.
Buy some phone accessories for her: You can also buy some phone accessories for her. Whether she is using an iphone or any other smartphone you can buy some funky and cute accessories for her. You can buy a trendy phone cover or sticker as well. You can also buy some nice phone jewelry for her.
Make a picture collage: To relive the sweet memories, collect all your sweet and special pictures and make a collage with them. This will be a nice gift for her. You can get them printed and framed as well. You can also go for collage on cushion overs or wall poster as well. Choose your style and relive your sweet memories.
Cook something nice for her: Give her a break from the day's cooking job and cook something nice for her. No one can ever say no to the something which is cooked with love. If you are not good with cooking, then you can cook a simple breakfast for her. You can try some easy breakfast recipes like sandwiches, salads, pastas and something else which you think you can cook well.
LoveVivah.com Jat matrimony portal gives online facility for Indian grooms and brides for wedding. Register now to search your future life partner.