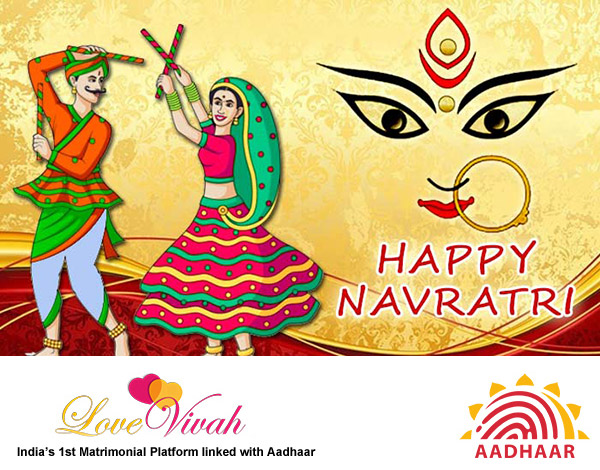 Navratri is one of the most auspicious Hindu festivals of India. Navratri means "Nine Nights", and celebration of Goddess Durga in her nine different forms on the scheduled nine days. The Navratri festival celebration is very colorful. People keep fast for these 9 days and enjoy with full enthusiasm. Even in some states people organize Garbha and Dandiya nights. This year the Shard Navratri festival will start from 21st September, 2017 and will end on 29th September, 2017. People follow different traditional norms and rituals during these auspicious 9 days to get the blessings of Goddess Durga. The festival is celebrated with so much of pomp and show across the country.  You would never want to miss even a single chance to be part of this auspicious and colorful festival. Here, in this article we are sharing the different colors and dresses you can wear during the nine days to enjoy the spirit of the Navratri festival celebration.
Wear Yellow on first day: On the first day Navratri wear yellow dress as this is the symbol of prosperity and good luck. You can wear anything in yellow on this day. But, to match up the mood of Navratri celebration you can wear long suit with churidar on the first day of Navratri. You can also wear a bright yellow suit during Durga puja on the first day.
Wear Green on second day: The second day of Navratri is dedicated to Goddess Durga, who is known for eternal power and energy. She blesses her devotees with good fortune and prosperity. To please the Goddess of purity, wear green color. To look traditional on this special day, wear green salwar suit in silk or in georgette with some shimmer and thread work. If you don't want to wear something too gaudy then you can also wear something in green with self-print or patterns. Wear any shade of green to receive the blessings of Goddess Durga this Navratri.
Wear Grey on third day: The third day of Navratri is devoted to Goddess Chandraghanta, the third avatar of Goddess Durga. This form of Goddess Durga symbolizes bravery and fortitude. To receive the blessings of Goddess Chardraghanta wear something in grey color. You can wear grey color suit with palazzo or you can wear grey color suit with different color combinations if you want to look trendy.
Wear Orange on fourth day: On the fourth day of Navratri festival we all worship Goddess Kushmanda, the fourth form of Durga. To please the Goddess Kushmanda on the fourth day of Navratri wear orange color. Wear something traditional like chaniya choli in orange or orange with some vibrant combinations like green, blue, black to look traditional and enjoy the festival. You can also wear this colorful orange chaniya-choli in Navratri- Dandiya or Garbhi dance.
Wear white on fifth day: On the fifth day of Navratri celebrations, we offer prayers to Goddess Skandamata. Don't forget to wear the white color on this special day to please Goddess Skandamata and receive her blessings. The Goddess will bring peace and prosperity in life. You can wear something traditional like white saree mixed with some bright colors like pink, yellow, orange, green or some other shades of your choice to look gorgeous on the fifth day of Navratri.
Wear red on sixth day: On the sixth day of Navratri worship Goddess Katyayani, the daughter of Kata. This sixth day of Navratri is celebrated with devotion to welcome the Goddess on earth. To get the blessings of Goddess Katyayani get dressed in the divine red color. Red color long anarkali suit with yellow or green color combination will be the perfect choice for Navratri festival.
Wear Royal Blue on seventh day: The seventh day is known as Saptami. It has its own importance as many people fast on this day. Even those who haven't fasted for all 9 days, they do fast on Saptami. This seventh day people worship Kaalratri avatar o Goddess Durga. She is considered to provide protection from all kinds of anxiety and problems. Wear traditional dress like lehenga choli or saree in royal blue on this special day to please the Goddess.
Wear Pink on the eight day: On Ashtami or on the eight day of Navratri, Goddess Durga is worshipped in the form of Goddess Gauri. She is considered as symbol of serenity and beauty and who has the power to wash away all the sins of common man.  On this day, many people offer gifts and other things to little girls to get their blessing and consider them as avatar of Goddess Durga. On this special day don't forget to wear Pink. You can wear pink suit with green or blue palazzo or long skirt to look trendy and gorgeous.
Wear purple on the ninth day: On the ninth day of Navratri we worship Goddess Durga in the form of Siddhidatri. To receive the blessings from the Goddess wear something in purple on this day. You can wear a purple silk saree or purple georgette saree with thread or stone work to match up the festival spirit.
LoveVivah.com Gujarati matrimony website gives marriage profiles of grooms and brides. Free Registration for all! Start your life-partner search now!