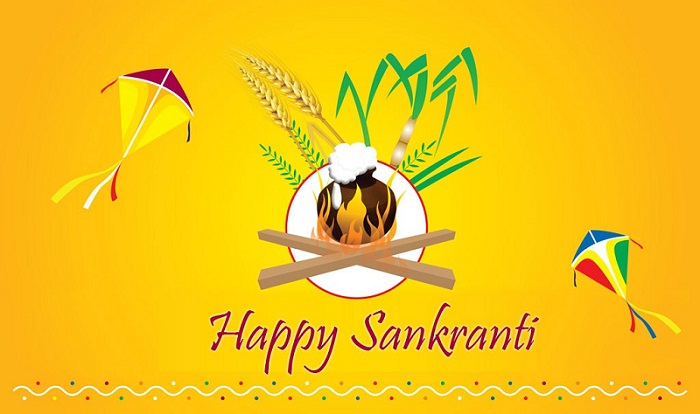 India is a multicultural society with different types of people living with full of respect. This shows as the unity and diversity stand for people of India along with their traditions. Common festival season is for harvest festivals in India with similar traditions across the country for celebration. These are Makar Sakranti, Pongal, Boghi, Magh Bihu, Uttarayan etc as per their name of various states and regions. This culture of the society based mostly to Hindu and Punjabi community of India. So it provides the social economic relevance to the plural society of the Indian diaspora in the world.
Makar Sakranti is celebrated in most parts of India, Nepal, and Bangladesh by the Hindu religion society.  It is solar calendar event generally falls on 14 January of every year. It is officially celebrated in Chhattisgarh, Odisha, Haryana, Jharkhand, Madhya Pradesh, Maharashtra, Rajasthan, Uttar Pradesh, Uttarakhand, Bihar and West Bengal states of India. On this day people worship the God Sun with delicious foods for family and relatives. Children used to take part in the Kite flying festival organized at various locations. It is time of pleaser of joy with friends with exchange of gifts and sweets.
Thai Pongal is a four days harvest festival of Tamil Nadu from last day of the Tamil month Margazhi to the 3rd of Thai. This is one of the most important festivals of Tamil community in Tamil Nadu, Puducherry and Sri Lanka. Pongal means 'boiling over' or 'overflow' in Tamil language. Festival dish is cooked of boiled rice with lentils on the God Sun. Just like Boghi festival is celebrated in the state of Andhra Pradesh and Telangana for four days. Uttarayan festival is similarly as Makara Sankranti is known in Gujarati people of India.
Magh Bihu is harvest festival of Assam celebrated as Bhogali Bihu in the North East and West Bengal states of India. It falls on month of Maagha (Jan-Feb) with Bihu means 'Enjoyment' in Assam language. So it is celebration of harvest festival across the North India, Southern India with everyone of joy.
LoveVivah.com matrimony site team wishes Happy Makar Sakranti to all the people of Indian origin.