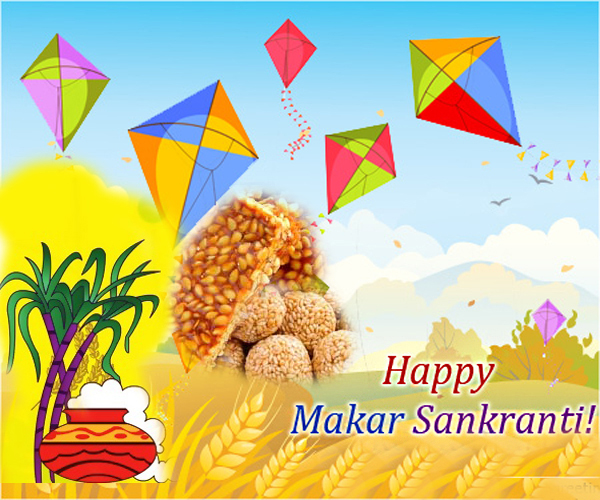 Makar Sankranti is the festival of harvest and celebrated across the country in different ways. The cultural significance of the festival varies from state-to-state in India. If you move from one state to another state you will notice a significant change in the ways of Makar Sankranti festival celebration. This is basically celebrated to welcome the new season of harvest.
This special festival has its own significance and stands apart from the other Indian Hindu festivals because date of the Makar Sankranti is fixed. Makar means Capricon and Sankranti is transitions. This is the first Indian festival that falls in the first month of the year. This important festival is celebrated in numerous ways across the county.
Himachal Pradesh: In Shimla district of Himachal Pradesh it is known as Magha Saaji. On this day, people wake up early in the morning and take ceremonial bath. They cook kichadi on that day and enjoy this special food with their family, friends, relatives and neighbors.
Delhi & Haryana: In Delhi, Haryana and other neighboring states Sakraat or Sankranti to be a main festival of the year. People cook different special things like Churma of ghee, halwa and kheer are cooked. In these states, the married women give gifts and clothes to her in-laws and this ritual is popular as manana.
Punjab: In Punjab, the festival is known as Maghi. On this auspicious day, bathing in a river in the early morning on Maghi is very important. Hindus light up the lamps with sesame oil as this is supposed to give prosperity and take away all sins. Even a major mela is also held at Sri Muktsar Sahib. As a tradition people cook kheer and chichadi on this day.
Rajasthan & West Madhya Pradesh: It is one of the major festivals in Rajasthan. People cook special delicacies to celebrate this festival. They cook pheeni, til-paati, gajak, kheer, ghevar, pakodi, puwa and til-laddoo.  As a special ritual of the state the married woman offer special food, make-up items and other household things to 13 married women. People invite friends and relatives to their home for special meal festival. Kite flying is another festival which is observed as a part of this festival. People in Jaipur and other regions fly kites to celebrate the festival.
Tamil Nadu: It is four days long festival in Tamil Nadu. It is celebrated as Pongal from the last day of the Tamil month Maargazhi to the third day of the Tamil month Thai.
Assam: The Sankranti is known as Magh Bihu or Bhogal Bihu in Assam. In Assam, the feasting lasts for a week. The festival is marked by feasts and bonfires. The celebrations also feature traditional Assamese games such as Tekeli Bhonga (pot-breaking) and buffalo fighting. During this festival the people of Assam make cakes of rice with various names such as Shunga Pitha, Til Pitha, etc. and some other sweets with coconut.
Maharashtra: In Maharashtra on Makar Sankranti, people offer multicolor halwa and til-gur laadoo to relatives, friends and family members. In Maharashtra, the Makar Sankranti is celebrated normally for three days.
Gujarat: This festival is celebrated at Uttarayan in this state with full fervor as people fly kites to celebrate the festival. They keenly wait for this festival. They cook undhiyu and chikkis on this festival.
LoveVivah.com matrimony portal gives online facility for Indian brides and grooms for wedding. Wish a very Happy Makar Sankranti, Pongal and Bihu festival greeting to all.