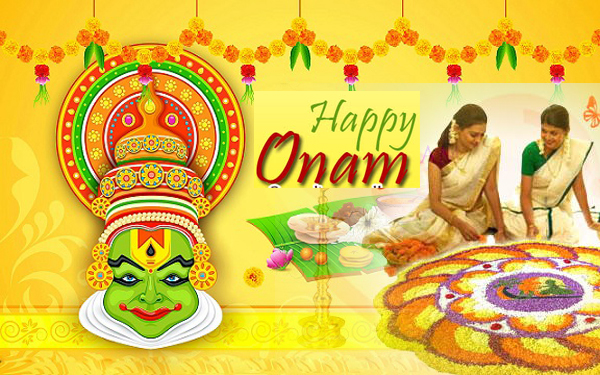 Onam is one of the major festivals of Kerala and celebrated with high spirit and fervor. This is ten days long festival, which starts from Atham on the first day and the last ceremony, which is celebrated on the tenth day and the one of the biggest day during this festival is known as Thiru Onam.
The ten days long celebration attracts a large number of tourists from across the country and world to this beautiful place. It is a harvest festival and celebrated across the Kerala state in the month of August or September. According to one of the most popular legend, the festival is celebrated to welcome King Mahabali. The people of the Kerala believe that during the ten days long Onam celebration the spirit of King Mahabali visit there.
10 Days of Onam Festival
Atham
Chithira
Chodhi
Vishakam
Anizham
Thriketa
Moolam
Pooradam
Uthradom
Thiruvonam
Celebration Starts with Pookalam
 The ten days long carnival and festival starts with Pookalam.  It refers to creating floral designs and during the whole celebration more and more flowers are added with each passing day. Girls create beautiful floral designs in front of their home. People visit local temples and offer prayers to God.
Thiru Onam Celebration
The most important and happening day in the carnival of Onam is Thiruvonam. The celebration begins early in the morning. On this special day, people clean up their house, wear new clothes and offer special prayer to God to receive their blessings. On the tenth day, an extremely big Pookalam is prepared to welcome the spirit of King Mahabali.
The biggest attraction of the day is known as Onasadya, an enormous lunch conducted by the people collectively. Most of the people are really passionate about conducting such enormous lunches. If people can't afford the enormous meal they at least prepare the meal, which includes all the 11-13 different dishes.
Onkalikal Refers to Games
This refers to all the games played during the festival Onam. People play different games such as Talappanthukali, which is played with a ball. They also conduct Ambeyyal (Archery).
Vallamkali Boat Race
Vallamkali boat race is also known as the snake boat race. This is one of most entertaining and happening events of Onam festival. In the boat race, nearly 100 boatmen compete with each other in a boat riding competition. All the boats are beautifully decorated with different designs and patterns.
Glorious Elephant Procession
Elephant procession is one of the most awaited events of this high-spirited festival. All the elephants are decorated with flowers, ornaments and beautiful clothes. This procession takes a long round of the whole Thrissur.
LoveVivah.com matrimonial site wishes peaceful and Happy Onam to people of Kerala and their families.