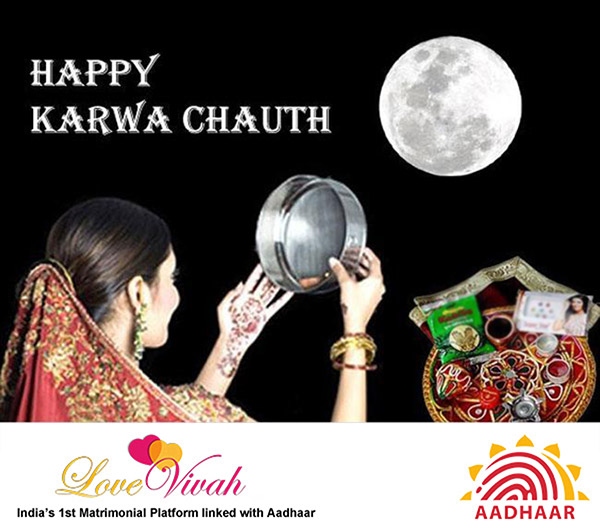 Karwa Chauth is one of the most important festivals of Hindus and any Indian wife waits for this special festival throughout the year. This important festival is around the corner and you must be busy in making some plans to make this day special for your lovely wife. It is one of the most auspicious festivals for a married woman. Karwa Chauth festival is the symbol of pure love of a wife for her husband for his well-being and good health. On this day, most of the married women fast for whole day and do not drink even a sip of water.
Are you planning to make this auspicious day memorable for your lady love? If you are clueless about how you can make this day special for her, we are here sharing some special ways and ideas to make this day special and pamper her. Here are five different ways to make this Karwa Chauth festival special for her.
Prepare a lavish Sargi for her: Sargi, a meal taken early in the morning before sunrise, is considered as an auspicious start Karwa Chauth Fast. Women fasting on Karwa Chauth are not supposed to eat/drink anything during the entire day post having Sargi. Prepare something nice and tempting for her as Sargi. If you are not planning to take her out for Sargi because of early morning and odd hours, still, you can cook something really nice for her. Try to make her favorite dishes at home and give a lovely surprise to her on this Karwa Chauth. You can also order her favorite food from her favorite restaurant as Sargi on Karwa Chauth.
Give her break from routine cooking:  To make her feel special and pamper her you can give her a break from her routine cooking job. Now, you become the chef of the day and cook for self and your family. If you are not good at cooking, then you can take the help of other family members or search different easy recipes online. Besides, you can also explore different online videos to learn how to cook your favorite dish. But, avoid making dishes which are too complicated or will tempt her. Cook something normal for whole family on this Karwa Chauth.
Organize a surprise Karwa Chauth party for her: To add some excitement to the day, you can call her besties on Karva Chauth and have a special party post evening Puja. If you are not planning a typical Bollywood style lavish Karwa Chauth puja, still you can call her friends for dinner or other Karwa Chauth rituals. Or you can call her friends during the day to keep them busy and occupied and let them enjoy the day. This could be another good way to make her feel special and help her in ignoring the hunger and keeping her busy. Don't forget to decorate the home in Karwa Chauth theme to make it party perfect.
Give her gifts throughout the day:  Instead of giving her all gifts in one go, give her gifts throughout the day. If you have bought two-three different gifts for her then hide them in different places where she can find them easily during the day. You can also play a game with her and ask her to find out all the gifts during the whole day to add some adventure to the day. It will make her feel happy and bring special smile on her face on this Karva Chauth .
Plan Your day together:  Nothing could be as special and nice than spending time together on this Karwa Chauth. This year, Karwa Chauth being on Sunday, try to spend your whole day with her and pamper her. In case you work on Sundays, try to take an off from office. Plan your day accordingly. You can take her out for a movie or for shopping as well. Besides, you can even spend some quality time together at home and watch your favorite movies at home and enjoy every moment of being together on this Karva Chauth festival. Do anything which will make you happy. Cuddle with her while watching the movie at home and add some romance to the day.
Keep Karwa Chauth fast with her:  This might sound difficult for you as most men find it difficult to fast with their wife. You should truly appreciate the efforts of your wife and you should at least give it a try to make her feel happy and special. This is a way to show your love and care for her on this festival of Karwa Chauth. Show your support to her and try to accompany her during the fast by following it in the same manner as your wife is fasting.
LoveVivah.com Punjabi matrimony site provides profiles of grooms and brides for wedding. Register Now and start your partner search with Aadhaar verified profiles.