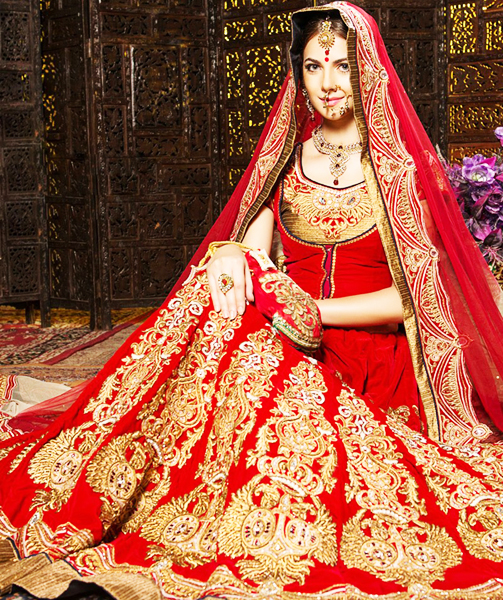 All set to tie the knot for the lifetime. As a girl you must have a long-list of Dos and don'ts, which you want to follow on your wedding. As a girl you want everything just perfect even the minute things that you are going to wear or use during the various ceremonies. But, as a bride the most special thing is deciding the lehenga for your wedding day, as you can't take a chance on that special day. A perfect wedding dress is very important to catch the fancy of everyone on your special day. To look gorgeous on your wedding day, you need a lehanga that will complement your personality and enhance your beauty. Don't mind to spend some hours in finalizing your clothing as you will be the one who needs to look perfect on that day. Here are some tips to choose the perfect lehenga for your wedding.
A traditional or contemporary lehenga: The first and foremost important thing to decide either you want to buy a traditional or contemporary for your wedding. You can choose the one to suit your body type and style statement. There are various options available in the market to pick the perfect one for you. If you are confused between the two, then you can do mix-and match as you can buy a traditional lehenga in contemporary colors or vise-versa.
Lehenga for hourglass figure: A perfect hourglass figure to complement your style on your special day is something which every bride wishes for. If you have that perfect hourglass figure, then choose a smooth fabric, which will drape you to complement your body-type. If you own that beautiful figure, then, why not to flaunt it with style? You can go for a short-choli or even a net patterned blouse to show-off your figure.
Lehenga for slim beauties: If you have the slim body type and after eating lots of junk food and other stuff you failed to gain some weight then don't lose heart. You can still look marvelous in a dress with this body-type as well. There are plenty of options, which can add volume to your body type and help you to look perfect on your wedding day. You can go for flared lehenga to add curves and give you that extra volum, which you always die to have. Choose a bridal wearing with heavy flare at lower part to add more volume to your style. You can also go for some stiff fabric as it will stand straight and help you to get that desired curves on your body.
Brides with plum body type: If you are all the time concerned about losing the weight to get fit into that dressing and not to look bulging on your wedding day. It is simple and easy to look beautiful on your wedding day with a perfect designer lehenga. So, go for this that will complement your body type.
Brides with different skin tone: If you have bright and fair skin tone, then you can go for some bright shades. These days these are available in different shades and tones. You can go for florescent colors as they are very much in. You can even go for double color shades lehenga. But, if you have that beautiful dusky skin tone, then you can go for some traditionally maroon color or you can go for some pastel or grey shades. If you have that normal skin tone not dusky, not so bright then you are lucky enough to experiment with different colors and shades. No matter, what you will pick, your skin tone will complement all.
LoveVivah.com marriage matrimony portal provides online profiles for suitable brides and grooms candidates in India and abroad.