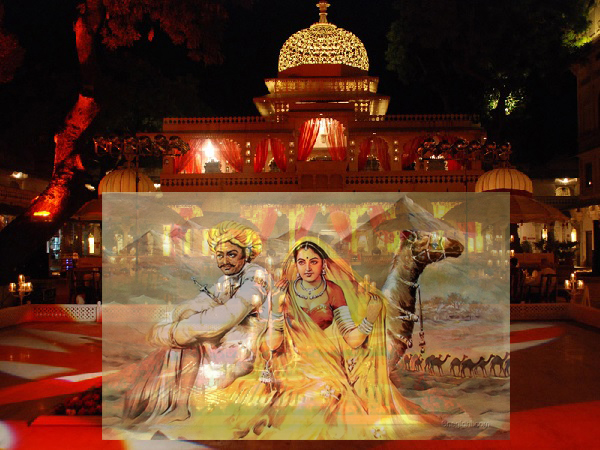 Rajasthan is the largest state of India by area situated in the west. The word Rajasthan means "Land of Royal Kings" which shows the royal heritage of Indian kings. The important tourist places in the state are Jaipur, Udaipur, Jodhpur, Ajmer, Bikaner and Kota. The typical Rajputs, Jats, Gurjars, Rajpurohit, Charans, Yadavs communities are Rajasthani people in the state population. The Rajput culture of Rajasthan is popular of their colorful wedding ceremony.
Palaces and Havelis with architectural heritage are famous in Rajasthan for Wedding.
Hawa Mahal (Palace of Winds), Jaipur Jantar Mantar
Mehrangarh Fort, Dilwara Temples
Chittorgarh Fort, Lake Palace
Dilwara Temples, Ranakpur Temple, Sarun Mata Temple
Rajasthan Royal Weddings
Royal wedding in Rajasthan is generally arranged in the deserts, royal ambience of Rajasthan. Royal weddings in Palace are popular for romantic couples at glorious forts of Rajasthan state. It is tradition and social customs display the royal charm with colorful atmosphere and decorated wedding place. In this marriage the groom wears traditionally Sherwani, colourful Turban. He goes to the bride home on a white horse with Barat (marriage procession). The bride wears the Lehanga, Jewellery and decorated Mehendi on her palm. The Barat is welcomed with flower garland by bride family. Traditional music and folk dance are important part of the marriage function.
Before Wedding Ceremonies
Engagement – The bride and the groom exchange wedding rings for acceptance of marriage life.
Ganpati Sthapana – The idol of Lord Ganesha is worshiped as intelligence and knowledge.
Pithi Dastoor – Applying Haldi paste (turmeric) on the hands and feet of both groom and bride at home.
Mehfils – Before the wedding day, a Mehfil (small party) is organized at bride and groom's house.
Marriage Day Ceremonies
Granthi Bandhan – The father of bride gives her hand to the groom's hand. It reflects passing responsibility to the groom and the ritual is called Kanyadan.
Paani Grahan – The groom takes the Right hand of his Bride in his hand which signifies the responsibility for lifetime of the bride.
Phera Ceremony – The bride and the groom circle round the sacred fire for seven times. They take blessing from the elders of their families.
Bidai (Farewell) Ceremony – The newly married bride gives good bye to her family and goes to her husband house.
LoveVivah.com matrimony services provide online marriage portal for the grooms and brides in the Rajasthan. You can upload your bio-data and search better candidate profiles for wedding.