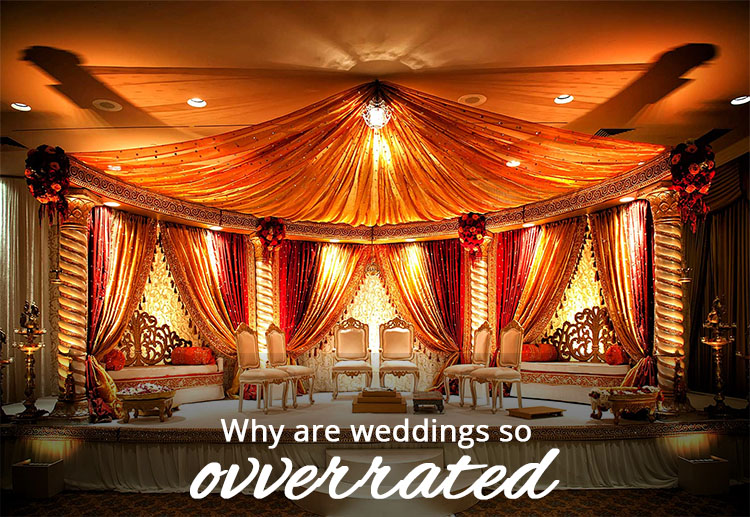 In India, marriages are highly overrated and one wonders why. Not only there's an Utopian notion about how marriages are a must for one's life to be complete and fulfilled, there's also too much emphasis on the inexhaustible marriage ceremonies, rituals and traditions to be complied with.
Marriage a Must?
Most Indian parents expect the daughter to get married soon after she completes her education mandatorily. Though with time, the Indian bride's Age for marriage has increased, yet for a woman to not have got into matrimony by the time she's 30 till date raises eyebrows and questions and unsolicited advice. Because of this social age of marriage, in India, even a well-educated and financially independent but unmarried girl generally speaking becomes a reason of parents feeling the social pressure just to get her married and leave home. In India, whether a daughter is a doctor or a high profile corporate executive or a sports person, a married daughter is much preferred and treated as a "weight off the parent's shoulders."
For boys, again, there's immense social and family pressure to get married, the moment he is well established and able to sustain a family financially. In some extreme cases, a man is married off even if he's not independent, on the logic that marriage will henceforth make him wake up to his responsibilities.
Marriage equivocal to Happiness?
Marriages in India are thus overrated also because our society fails to reckon that marriage doesn't necessarily make one happy. There are now increasing number of broken marriages, divorces, unhappy matrimonial lives, unhappy couple's and practically null and void marriages simply alive on papers – all in the name of the overrated institution of marriage.
The Show, the Pomp, the Rituals
But even besides these factors, the wedding event itself is so highly overrated. In any typical Indian wedding, both sides of the allegiance spend nothing less than a few lakhs up to quite a few crores on every wedding.
Typically, most Indian families invite an endless number of family members, relatives, friends, and acquaintances to a wedding function. Lavish food items are prepared. Expensive gifts are exchanged. Days together, at times weeks, are passed away in elaborate pre-wedding and post-wedding ceremonies.
While earlier a nice and decent Banarasi or Kanjeevaram sari would suffice for the Indian bride and a good pair of suit or dhoti kurta for the Indian groom, nowadays it's seemingly become a social statement and mandatory to go in for designer Lehengas and Sherwanis. The costlier they are, the grander the wedding is seen as. No wonder, the true essence of a matrimonial event has increasingly taken a back seat, while overrated Utopian notions about marriage and superficial traditions and wedding activities have taken up so much space.
We at LoveVivah love to see happy, healthy and joyous weddings. We not only are committed to bring you your perfect life partner, but also love to see the true essence of a matrimonial life fill your wedding day with happiness and joyful memories. That's why we bring you India's best and most eligible bride and groom profiles. We ensure that every profile on our matrimonial site is genuine, so that you, our cherished user gets a fully secure, safe experience and meet only the trusted candidates on LoveVivah.