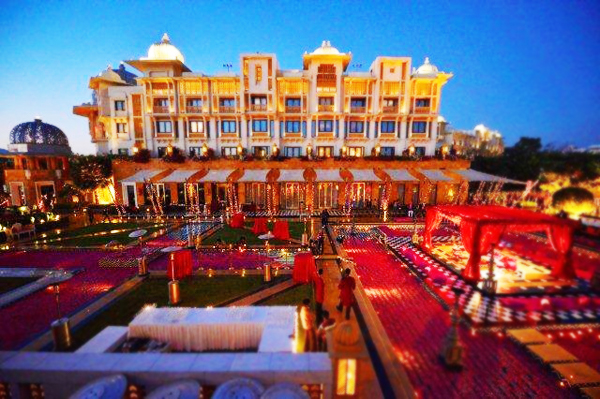 Marriage is not just a ceremony or an affair where you and your family members just gather and celebrate and rejoice together, rather it's a memorable event for all. For many it's not just a ceremony, but a special affair, which you want to remember for rest of your life. In India, wedding is no longer simple, people spend lavishly on this special ceremony. Nowadays, most of the couples have some special dreams regarding the venue and destinations where they want to tie the knot. Their exotic destinations are no longer limited to lavish farmhouses or an exquisite hotel. But, these youngsters dream of an exotic destination, which will add special charisma into their wedding ceremonies. People don't mind spending huge money on such destinations if they find some as per their expectations. Here, we are sharing some of the most exotic and lavish venues of the country that can turn your dream into memorable reality.
Neemrana Fort Palace, Alwar, Rajasthan: It is one of the most lavish and splendid venues for wedding. It is spread over five acres. This fort was built in 15th century. This palace is rated among the heritage properties in the country. Here, the gorgeous dome-shaped gazebos, courtyards bounded by intricately-carved walls and beautiful lawns can add sparkle to your wedding ceremonies. You can choose any of the destination and venue which suits you most from the sunset wedding ceremony to extravaganza in the starlit sky. It is one of the most beautiful and marvelous venue.
Umaid Bhawan Palace, Jodhpur, Rajasthan: It is one of the most beautiful location in the world. Umaid Bhawan Palace is a marvelous venue for wedding affair. It has lavish front lawns and the grand Marwar Hall. The palace is one of the most sought after Rajasthan destinations for lavish wedding ceremonies. People who don't mind to spend huge money on their wedding affair can choose this sprawling destination. This beautiful palace was built in 15th century. If you have dreamt of having a big traditional wedding affair then this is one of the most suitable destinations for you. It offers you most authentic Rajasthani ambience with all traditional ceremonies to make your wedding royal for you.
Jai Mahal Palace, Jaipur, Rajasthan: This is another bewitching destination in Rajasthan, which you can choose as your wedding destination to make your wedding a grand affair. This Jai Mahal Palace is spread over 18 acres of Mughal Gardens. At this luxurious palace, you will experience the unparalleled comfort and royal lifestyle. It offers you a lavish outdoor as well as indoor venue for your wedding ceremonies. If you have a good budget to spend on a lavish venue then this is the right destination for you. You can easily reach this destination as it is very well connected with road. This exclusively beautiful palace is just right for your big day.
Suryagarh, Jaisalmer, Rajasthan: This beautifully designed Suryagarh is gateway to the most exotic Thar Desert. It offers you unique lifestyle and culture. It offers you much more than your expectations to make your wedding an unforgettable affair. You can easily enjoy the royal lifestyle and Rajasthani culture. Here, you will feel nothing less than a royal affair which will make your wedding really special.
Jai Mahal Palace, Jaipur, Rajasthan: This is another prime and exotic location, which offer you a majestic palace. This heritage property is built in Indo-Saracenic style of architecture and reeks of opulence from every corner. This palace houses grand outdoor as well as indoor venues for your big day. You can anytime block this palace for your big day without giving a second thought if you don't want to compromise on location.
LoveVivah.com matrimonial website provides online match making platform for Indian brides and grooms. You can get registered free for suitable life partner.