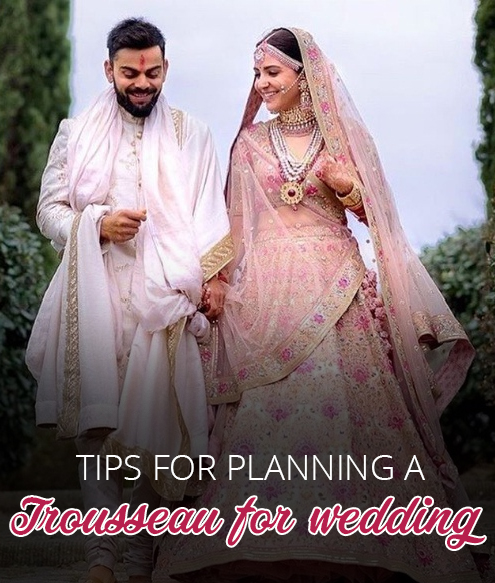 Congratulations! You are getting married! You are embarking on a life-long journey towards matrimony,  and you have our best wishes. We understand the mammoth task that lies ahead of you. The endless things to be done, the clothes to be bought, the finances to be managed, the décor to be finalized, the honeymoon destination to be zeroed in, those heels to be bought, the bags, the accessories, the jewelry, the gifts! Phew! The list is never-ending. And the pressure is increased many times by the information available on various wedding services related sites.
One of the most overwhelming tasks at hand could be that of planning your wedding trousseau. Yes, we know it, and we are here to help! Keep in mind our tips for planning that jaw-dropping wedding trousseau!
Tip one – Don't wait until the last minute!
I'm sure you have heard it many times, but trust us on this one. The sooner you start building that wardrobe, the better. Remember that old saying – 'Rome was not built in one day'? This is quite like that! Start making trips to exhibitions and fashion houses early. If not to buy, it will expose you to the current fashion trends and also the possibilities. Therefore, don't leave this to the last!
Tip two – Mix and match!
This is actually a good idea to be open to, and explore. So, while buying suits, pick up something in unicolor; it becomes easy to mix it with something and give it a new twist. Any color would be okay for this – a pink Anarkali can be worn with a, let us say, purple dupatta, or even a sea green! Use your creative side and mix it up! This applies to sarees too! Mix a saree and a crop top, or a long skirt and a collared shirt, or a shirt and a ghagra – the options are endless!
Tip three – Think more than just RED!
Yes, we know red is associated with love, prosperity and 'Indian Brides.' Often, the picture of perfect newly married Indian bride or the new bahu is the one in red. While we do agree that it looks lovely on the Indian skin tone, there are a whole lot of colors to explore too! Those pastels may be a great addition too! And they make a perfect outfit for those outdoor family lunches too! Don't you agree?
Tip four – A few of all!
For a newly married Indian bride, there would be many dinners to attend, weddings to go to, family invitations and party invites too! And different occasions would call for different kinds of outfits. Therefore, we suggest that you include a mix of all – suits, sarees and western wears. And depending on the kind of family set-up, choose the number of each you'd need to take along! And while stocking on sarees, don't forget to add classic golden and silver stand-alone blouses. You never know when they may come handy!
Tip five – Not all heels!
This is important! In our excitement to buy those stilettoes, we forget that sometimes comfort dressing is chic too! So, do include sneakers or those classic tan crisscrosses, or those wedges to gear up for comfort dressing too!
Tip six – Don't forget accessories!
Imagine – you are dressing up for a party and are ready to go. You open your jewelry box and, oh no! The gold jewelry won't fit. Keep in mind that art jewelry is a fun way to upgrade that outfit – without putting too much money in it. And pairing it with the perfect sling or a tote would take a look from 'good' to 'wow'! So, while buying real jewelry, do spend some time and effort in putting together a handful of those pieces. You never know when the results may surprise you!