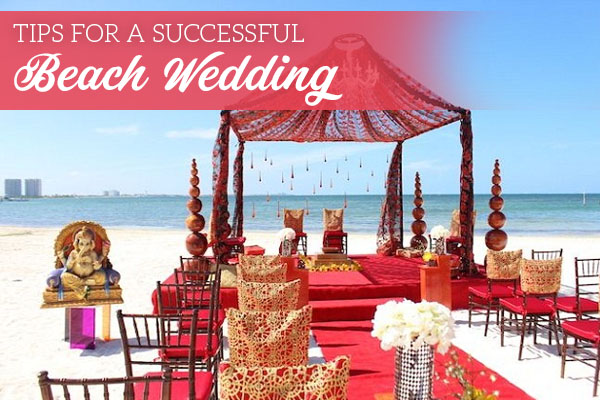 A perfect blue sky, the sound of water breaking on shore with a thud, the sun and the sand! There is no setting quite like this. It must be perhaps for this reason that beach weddings are becoming increasingly popular. Only an unmatched setting like this can offer you a chance of planning a fun and intimate wedding that you are likely to remember for the rest of your life. Not that the other weddings are less memorable, but frankly, there is nothing quite like a beach wedding. And we are here to help you plan a perfect one.
Selecting the beach 
Both in India and abroad, there is no dearth of beaches that can be perfect for you. Open any travel magazine or a matrimonial site and there will be a plethora of options for you to choose from. One of the prime factors in helping you decide would be your budget. At the same time, we suggest that you look up other factors too –like the weather conditions, availability of hotels and accessibility of the venue before booking the place.
Choosing your outfits
In a peaceful calm of the beach, traditional reds or bright pinks of the Indian bride may seem too much. A setting like this calls for flowing breezy outfits in perhaps warm pastel colors. In fact, you both could even consider ditching those heels for something more appropriate as well!
One tip – opt for a more au-natural look than the heavy make-up one. It is sure to work better in this backdrop.
Creating the right ambience

Although nature is best left untouched, some little additions here and there could really contribute to creating a perfect atmosphere. You could go for a theme inspired by fresh flowers or if it is an evening ceremony, try having some fun with bright colors. We would also suggest exploring the possibility of live background music being played by a local artist. This will complete the setting.
Timing is everything

For an outdoor wedding, timing may be of utmost importance. If it is likely to get very hot around midday, start a bit late. But, it is important to note that while moments are best captured in natural lighting, there is no real remedy for poor light. So, try and time the ceremony to allow the natural lights to illuminate your wedding and the outcome will be fabulously captured pictures.
In fact, it might be a good idea to look for reference pictures of the venue from reliable sources to get a better idea of the dynamic of the place before finalizing it.
Have a plan B

There is no day like your wedding day and so we suggest that you keep a back-up plan, just in case something goes wrong. Make provisions in case it get windy, or in case of any unexpected rain.
If you are able to manage these two factors in particular, there is nothing that can keep you from having a successful wedding.