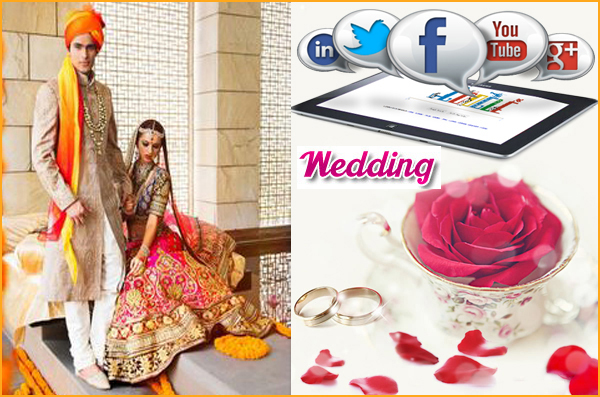 We all are spending at least two-three hours every day on different digital things. Technology has become an integral part of our life. It helps in simplifying and upgrading our lives to make it better. So, in such a situation how could you forget to make the most important event of your life digital. Don't forget to add some digital aspects when it comes to weddings. Here are some important and friendly ways that you can include to make your big day special, appealing and memorable for all your friends and guests.
Go for wedding app: This is one of the most easy and simple way to make your wedding tech-friendly. It will infuse technology friendly element into your wedding. With your wedding app you can easily send mass invitations. It will also help in managing some other important things such as managing finance, making guest lists of connecting with vendors. It can be easily managed and operated without any hassle. Now, you need not to write down everything on paper or notepads as you can download the easier the workable apps. These apps are available with different features such as music, budget and vendors and much more to ease your wedding arrangements and process.
Create your small website: Go for a small website where you can update each and every ritual of your wedding. You can easily update your entire wedding rituals on your website and can go online. You can easily get your wedding website created by any web-designer or you can buy any ready-made website template and customize it as per your requirements. You can upload your photographs, video and other important wedding ceremonies details on the website. It will be good for those friends and family members who will not attend your marriage. This way they will not miss any important event of your marriage and can enjoy all the activities by watching videos and photos.
Fix digital screens: Go for a digital screen at the wedding venue. It can pull and display all the live-Tweets, FB comments, Whatsapp messages as well as you can share the selfies from your guests. You can easily share real-time photos, posts and live video on that big screen. It will help in creating a more interactive atmosphere at the wedding venue. You can also share the guest-book and the list of some special performances and rituals on that big screen.
Create a Wi-Fi zone: This is one of the most welcomed and friendly thing which you can do for your guests. You can ask the venue manager to activate the Wi-Fi service for your guest. They will be happy with this special gesture. This will also enable them to share all the important activities of the place with their friends and family members. This will allow them to access all Whatsapp messages, Tweets, Facebook posts and other important posts.
Charging stations and selfie stick: You can create different charging stations for your guests at the wedding venue. This concept will definitely like by your guest and dear ones. Make the selfie sticks and charger available for your guests. This will help them to click some cool selfies, group selfies to make their day memorable. This idea will be loved and welcomed by guests who love to click selfies all the time. It will be a good surprise for them.
LoveVivah.com matrimony portal offers 360 degree digital solutions to the prospective brides and grooms to search their perfect marriage partner.