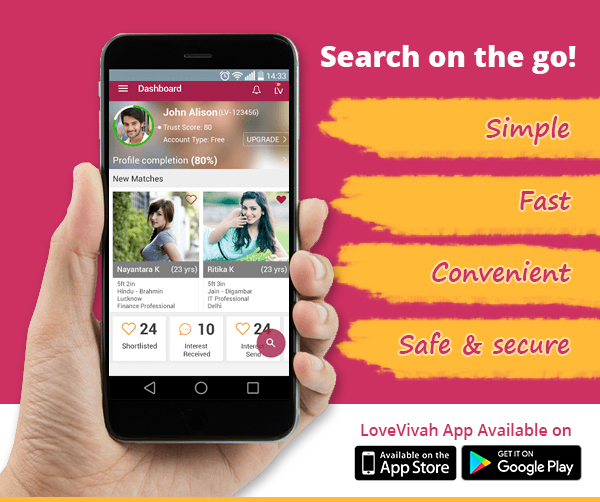 The mobile applications have become a huge trend among the youth in last 2-3 years. People find these apps useful and handy to use. You must have noticed that almost all the big and small businesses have launched their mobile app to reach to more and more customers. It is one of the fastest and smartest way to reach the target audience and keep them engaged user-friendly and smart app is all that a business needs to reach to their target audience.
Even from a matrimonial user perspective, it is beneficial as now they need not login or take out special time to access the services, check their or do any kind of activity on the platform. It is one the safest and time saving technology. We are here sharing the special and customer friendly features of LoveVivah app that makes it exclusive and customer friendly.
24X7 Login free access: Lovevivah mobile APP offers you 24X7 login free access. You need not to login every time before you want to access your matrimonial profile. With the help of this smart app you can easily access your profile 24X7. Now, you need not to worry about remembering your login id or password. As you are always logged in your profile, so you can easily access it without wasting any time.
All time accessible: LoveVivah APP is very friendly and you can easily access it all the time. You are not required to dedicate special time to open your laptop to access it. Besides, it is always available on your fingertips and you can easily access it anytime-anywhere. You are just required to download LoveVivah APP from the app store and once it is installed, you can easily access the APP by logging in for the first time.
Smooth and hassle-free experience: LoveVivah matrimonial APP offers hassle-free and smooth experience to all its users. It offers you easy and smooth access to all its features and functionality. You can easily do all the activities like sending/receiving interest, checking your profile, reading and sending messages, chat and do all other activities within the APP to save your time and experience smooth functionality.
Highly useable features: This matrimonial app offers you highly usable features which are important for you as user to maintain your profile account. You can anytime use all important features and access your LoveVivah profile on the APP. It not only offers you access to all important features, but freedom to do all important activities anytime, anywhere at your convenience. You can purchase a membership plan through your mobile app as well. Besides, you will always enjoy better and more benefits on your LoveVivah APP.
Smoother payment gateway: Another important feature which makes  LoveVivah matrimony APP different from others is its smooth & secure payment gateway. It offers you a smoother and hassle-free experience when it comes to making a payment against the purchased plan. It offers you third party payment gateway which means it doesn't capture any of your credentials and offers you fully secured payment platform.