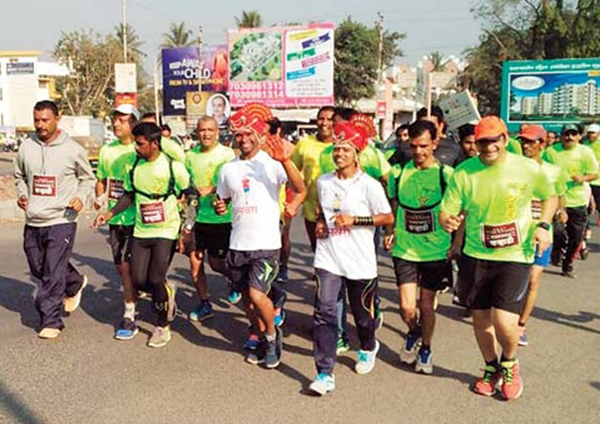 The village people of Kaloshi of Satara district in Maharashtra witnessed a unique 'baraat' procession in their village. This is totally a unique wedding procession, where all the baratis and even the bride and groom were dressed in T-shirts and tacks instead of wedding clothes, heavy jewelry and make-up. They all got ready in their T-shirts and tracks and run to the marriage registration office in Satara town.
The groom hails from Kaloshi village is associated with Satara Marathon Association for more than three years. Even his wife, Poonam is also linked with this Marathon Association. Both of them met first time during the Marathon event that this organization organizes. They planned to get married in a unique way of getting married to promote and spread the message of fitness.
Navnath owns printer repair shop, has taken part in more than eight marathons till so far and is a noted top runner of the association.
He told, "I am a fitness freak since childhood. Running has always been my hobby. After the marriage date was fixed, my friends started teasing me. They said that I would tie the knot only after running a marathon."
Navnath, further added, "I am against spending exorbitantly on marriages, therefore I decided to go for a simple way. The money that I have saved will be used for a fitness cause."
LoveVivah.com Maharashtra matrimony provides brides and grooms profiles for Marathi community marriage.