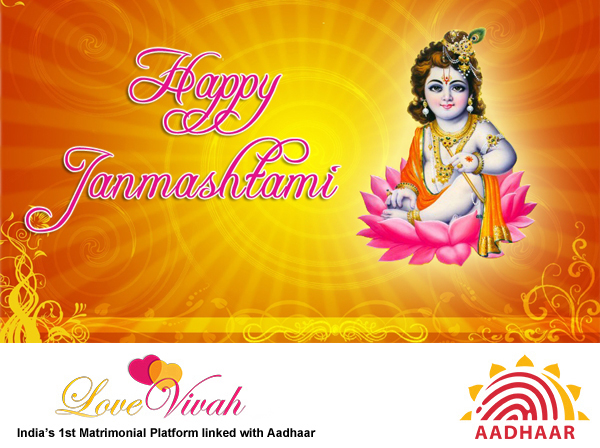 Janmashtami is one of the important Hindu festivals of the country and celebrated across India. However, it is being celebrated differently in different states. It has its own significance and importance as festival. It is also popular as Krishnashtami or Krishna Janmashtami or Sri Krishna Jayanti. It is a day when Hindu god Vishnu has taken birth as eighth avatar. You really don't want to miss this important festival to be celebrated after marriage. If your family is very specific about celebrating this special festival, don't miss the opportunity to be part of this special occasion and celebration. Here, we are sharing some interesting ideas of celebrating this special festival after marriage to make it more memorable.
Buy new clothes for the Krishna idol: This is one of the most important rituals and no Hindu family forgets to do so. If you too have Krishna's idol at home, buy new clothes for it on his birthday. Even you can buy ornaments, flute and small mukut with peacock feather for him. You can also buy these clothes from any temple or market. Some of the favorite and traditional colors for the dresses are yellow, green, pink, golden and blue. You can choose a color matching the flavor of the festival.
Decorate home for the festival: To make this day special, you can decorate the home with flowers and lights. This is really a special day and should be celebrated with full swing. You can decorate your home traditionally with flowers, toran and lights or you can make some small theme based decoration. Besides, you can also go for some small replica of that period by decorating your home with small status of gopi's, gwala baal, cows and villagers to get the feel of the festival.
Arrange Dahi-Handi as ritual: There are many places in our country where people arrange special dahi-handi ceremony for the festival. You can also organize a special Dahi-handi ritual and ask family members to participate. Even you can do that on larger level by organizing something within your block or housing society. You can also organize small competition to enjoy the day to the fullest and increase the fun of the day.
Make Rangoli or use some theme: Don't forget to make special rangoli on the day. This is something very special and important ritual. Make some traditional rangoli with different colors. You can also make rangoli complementing your home decoration or you can make rangoli with the similar color which you are using for the clothes of idols.
Invite family & friends: No celebration is complete without the presence of family and friends. You can't imagine even a single celebration all alone. You can invite family and friends to become part of this special festival celebration. Even you can get help of your spouse and sister/brother-in-law for making the guest list.
Organize bhajan shandhaya: To get soaked in the true spirit of this festival you can organize special bhajan sandhaya. On this special day, you can chant special songs of lord Krishna to remember him. Even you can hire special professional singer to perform bhajan sandhaya on that day.
Cook special for friends and family: Most of the people fast for whole day on this special festival. Cook something special for all family members and friends on this special festival. You can make favorite food and some sweet dishes made of milk. Don't forget to make panjiri for the Prasad. To know what to cook and what not to cook you get help of your mother-in-law and other family members.
Organize small skit: You can also organize some special skit on this day. You can also organize Raasleela or some small skit from Krishna leela and some episode from any mythological book in the remembrance of lord Krishna.
Get dressed like Gopis and Krishna: You can also add some more flavors to your festival by getting dressed like gopis and Krishna on this special festival. Even you can ask your all family members and friends to follow the same dress code on the day.
LoveVivah.com Hindu matrimonial website give wedding profiles of grooms and brides. Free Registration for all! Begins your life-partner search now.