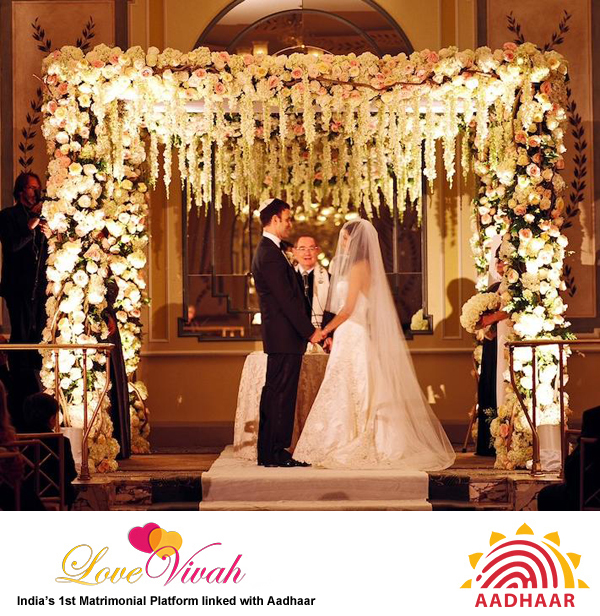 Jewish wedding ceremonies are very simple and beautiful. Jewish people are very simple and the same thing is reflected in their wedding traditions as well. Jewish wedding is generally conducted traditionally and they follow all their rituals religiously. The meaning of Jewish marriage is more than just exchanging the wedding rings. It is a kind of mutual understanding between the bride and groom that they are responsible towards each-other as well as for their society, religion and culture. The Jewish marriage ceremony is known as "Kiddushin" in Jewish language and is considered as blessing. The word is originated from "Kadosh" which means holiness. Jewish marriage is usually conducted on a usually Tuesday. We are here sharing some interesting Jewish wedding traditions with you.
Pre Wedding Rituals of Jewish Wedding
One of the most important pre-wedding rituals is 'Yom Kippur Viddui'. In this Jewish wedding tradition, the bride and groom make confessional prayers. The prayer is symbol that they forgive each-other for their pasts and start a new life afresh. After completing this ritual, the next ritual is popularly known as 'Kabbalat Patim'. In this marriage ritual, the couple is not allowed to meet each-other from one week before the wedding. This ritual is followed by Badeken tradition, during which the bride and groom see each other as the groom veils the bride. This wedding ceremony is conducted just before the marriage ceremony.
Jewish Marriage Rituals  
The Jewish marriage ceremony is conducted under the 'Chupaah', which is an open canopy. In this marriage ritual, the bride takes the seven rounds around the groom in circular form. This is known as 'Kiddushin'. After completing this ritual, they take the blessings from the Betrothal and couple drinks the wine from the cup. This ritual is followed by the exchange of the rings between the couple. The next Jewish wedding ceremony is the reading of 'Ketubah'. It is a kind of wedding contract written beforehand and signed by two witnesses. It is kind of documenting the marriage in the presence of witness and the relatives. The next ceremony takes place after this Sheva Berakhot, wherein the rabbi recites the seven blessings over a cup of wine. Apart from this, a wine glass is placed under the Jewish groom's foot and he is asked to break it as a ritual.
Post Wedding Rituals of Jewish Community: The Jewish marriage ceremony is usually followed by Seudat Mitzwah, which is a kind of reception ceremony conducted after marriage. The Jewish marriage reception party contains different mouth-watering delicacies for the newly-wed couple and the guests. This is followed by Mitzwah dance, wherein everybody dances around the couple. The marriage ceremonies are simple and beautiful. These rituals are very different Christian wedding traditions and even Parsi wedding rituals.
LoveVivah.com Jewish matrimonial site provides marriage resumes of brides and grooms. Join Now for free & search through millions of Aadhaar verified profiles!