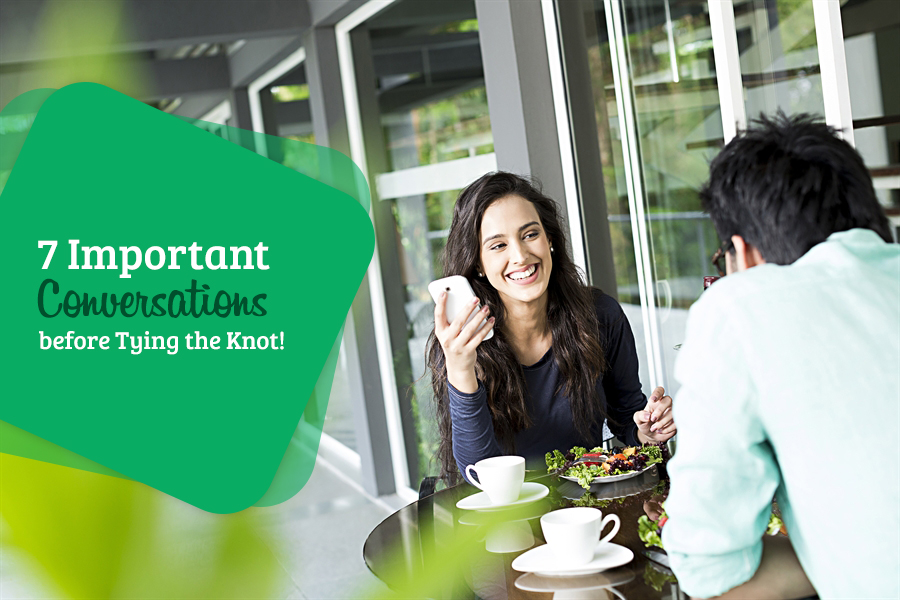 Marriage is a lifetime commitment. Matrimony is between two individuals coming straight from different families. There is a great diversity in their upbringing, outlook, culture, customs and traditions, beliefs, habits etc. whether it is an arranged marriage or love marriage.
In the age of digitization, there are leading matrimonial sites that have created a platform for the people to reach other for partners for life.
Nowadays, the groom and the bride are well-educated and independent in their thought and action. The two individuals have to stay together 24*7, hence they should be aware of their likes and dislikes, their expectations from their partners and what they can accept and what they can't accept.
Before tying the knot, both the groom and the bride has the option to accept or reject, without losing anything.
1. Personal Habits
Discuss about your personal habits, which you feel can be annoying for the other, such as snoring, boozing, gambling, smoking, etc. There are certain habits which one is ready to give up if not liked by the other partner but there are a few that you are addicted to and is not into your control or don't want to give up. There are people, who have an aversion for boozing and smoking and they cannot adjust in the circumstances. It is better for both the partners to know closely about each other before getting into relationship.
2. Children & Their Responsibility
People take children as a package included in matrimonial package and they don't feel the need to discuss. But in today's scenario, when both partners are working, there are instances where either bride or the groom is not ready for family way and they don't want to take the responsibility of bearing children. The newbies ready to enter into commitments should discuss clearly their take on the subject and how they will manage in the event when both are working or one of them is working.
3. Finance
There are numerous conflicts among the partners over financial issues and often, their relationships are strained because of indifference on financial issues. Both the partners should talk about their concept on finances, their spending limit and saving habit. If both are working, how would they like to manage their finances, individually or in jointly and if one of the partner is working, then how it will be managed. Do acquaint your partner if any loan is currently running and how it will be managed in future. Talk openly discussing all the minute issues.
4. Career
In today's scenario, both partners are well educated and raised with a motive in mind to carve a niche for oneself in the professional sphere. Career options and preference should be clearly discussed. There are girls, who want to take a break in a career after marriage and kids and there is a group, who don't want to give up in any circumstances. This aspect should be discussed honestly with all pros and cons and situations expected in life.
5. Beliefs & Culture
Two people are coming from entire different families, so there will be a range of differences in beliefs and culture. Both partners should discuss their take on the subject and apprise each other their view, whether they are staunch in following or liberal in view. Are they ready to accept each other's belief and culture or reluctant to drop or accept?
6. Responsibility of Parents
Today, both the boy and the girl is responsible to take care of their parents, especially in old age. This is an important aspect of discussion and it should be honestly reviewed so that untoward issues don't crop up and old and ailing parents are left in a lurch. Even the financial assistance provided to parents should be discussed.
7. Delegation of Domestic Chores
Today, in the event of a nuclear family, a single partner cannot take entire responsibility of the domestic chores. It should be practically discussed and both the partners should be willing to take up the joint responsibility of all the domestic chores or they can delegate duties according to their choice and time availability.
These seven points are the important and indispensable points of discussion for smooth sailing of the marriage relationship. Everyone has to go through them in marriage commitments. When you zero in your partner and is ready to take up the journey, plan a meeting and discuss all the points honestly, clearing all your take and inhibitions on the subject. If you agree, plunge into the relationship or else wait for someone, who matches your mental horizon.
LoveVivah is one of the prestigious matrimony site which brings young and eager individuals together to start a life with an understanding partner.