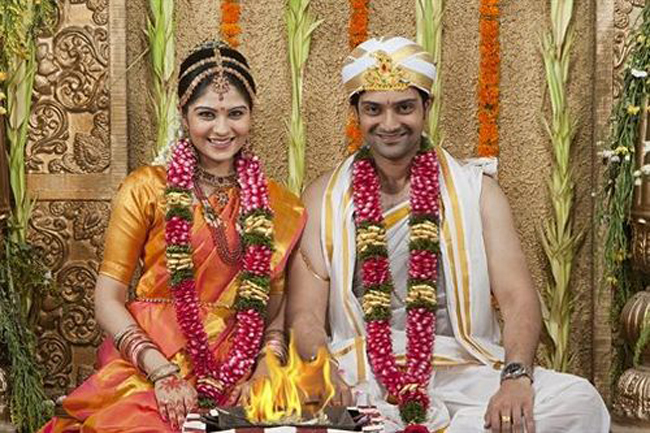 Kannada is a Dravidian language spoken mostly by people of Karnataka in South India. It is also spoken in neighboring states like Andhra Pradesh, Telangana, Kerala, Tamil Nadu, Goa and Maharashtra. It is the official languages in Karnataka state. The community that belongs to this language is known as Kannada people. Kannada marriages are similar to the traditional Hindu weddings with customs, practices and rituals of the region. Wedding is family affair to enjoy the occasion with friends and relatives. Different marriage rituals are performed by the bride's and groom's families in their homes respectively.
In Kannada weddings, the bride is welcomed by groom's family with jewellery, gifts and other things offered to her as ritual. Wedding ceremony is arranged at the Mandap (marriage stage) where they take holy vows and exchange the flower garlands. The groom tied the Mangalsutra (wedding necklace) on bride's neck and they take Sapta Fera (seven rounds) around the sacred fire. After completing all the ceremonies, newly wedded couple takes blessing of elders.
Different Ceremonies of Kannada wedding
Rituals before Wedding
Naandi ceremony– In Karnataka, the day before wedding begins with Naandi ritual. It is organised by both bride and groom in their respective homes to worship the God before marriage. This is conducted to seek blessing from God that all the wedding ceremonies will happen uninterruptedly.
Kaashi Yatre– In this ritual, the groom pretends of leaving his house for Kashi as he does not find a suitable bride. He is stopped by this maternal uncle and he shows the bride selected for him.
Dev Karya ceremony– Here, every item for wedding are placed in front of Lord Ganesha for seeking his blessings, before the groom leaves for bride's house. After this, the family members and relative apply Hadli paste on face, hands and feet of bride and groom in their respective homes.

Rituals on Wedding Day
Mandap Puja– The marriage day begins with Puja as first ritual on the "Mandap" and wedding hall is purified with traditional way and rituals.

Var Puja– Here the groom is welcomed by bride's father by washing his feet with water. This is the official greeting by the bride's family.
Dhare Herdu ritual– The bride comes to the Mandap and exchange garlands with groom and the priest chants holy mantras of wedding. The bride's parents give a coconut, betel and pour holy water to give their daughter's hand in the groom's hand.
Mangalsutra ceremony– The groom ties the 'Mangalsutra' around bride's neck. Then, the couple takes seven rounds around the sacred fire known as Saptapadi ceremony. Newly married couple takes blessing from parents and elders after completing the rituals.

Rituals after Wedding
Bridal Welcome– After the marriage, the newly wedded bride comes to her husband's home and she is welcomed by her mother-in-law with traditional Aarti.
Griha Pravesh– Here a rice filled vessel is kept at the main entrance gate of home and the bride is asked to knock vessel inside with her right foot. This way she makes first official entry to her new home.

Name change ceremony– The groom chooses a special name for his wife. Then he writes to inscribe it with a ring on rice plate.
On 2nd day after wedding, parents of bride visit grooms' house to take the couple to their home. The newly married couple stays at the bride's home some days. After a few days, the groom's parents go to the bride's house to takes them back.
Reception party– Groom's family arranged a party in a banquet hall with lots of foods and music to introduce the bride to their friends, relatives and other neighboring people.
LoveVivah.com Karnataka matrimonial provides online platform for the wedding. You can get free registration for checking suitable Kannada brides and grooms in Karnataka for marriage.