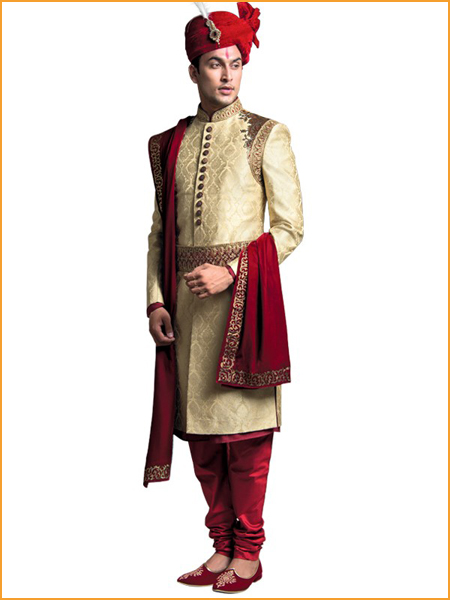 Are you looking for latest trends in sherwani? Still confused between the traditional and contemporary looks for your sherwani? Are you really keen to buy new sharwani for your wedding, but don't know which style will suit you most? Wedding season is here and if you are the one who is going for your wedding shopping every week to buy a perfect sherwani and still confused what to buy as your wedding dress, then we can help you in buying the right sherwani. Nowadays, grooms too pay much attention to their wedding attire. Wedding day is not just for the bride as she needs to look beautiful, but it is equally important for guy as well to look handsome. Therefore, grooms wedding dress should be really nice that will create a lasting impression. Sherwani is one such traditional attire, which is stylish yet very much ethnic. Here are 9 sherwani styling ideas, which you can choose for your wedding day.
Chipkan style sherwani: This style is inspired from the contemporary era. This royal sherwani is the true reflection of Indian royal culture and traditional attire. Usually, the design of these sherwanis are inspired from the Mughal period and thus gives an impression of kings and rulers. If you are really keen to add that  royal look on your wedding day, then you can choose this special sherwani. If you surely want to add royal spark to your looks, then this style is sure buy. You can mix this sherwani with some classy accessories, but avoid overdoing it.
Indo-Western sherwani: Indo-Western sherwani's are a perfect pick for those who want to maintain the right balance between the modern and traditional looks. When it comes to trend-setting, this is just perfect for you. There are plenty of shades, colors, hues are available in the market in this style. If you still want some bling for your sherwani, then you can choose the studded, beds, gems and royal buttons in your sherwani to get that perfect look. You can also get your sherwani customized, if you have some more ideas to add that royal touch in your shwerwani. Elaborate the essence of your sherwani with a stylish bottom wear. Always ensure that you are going for contrasting colors to enhance the beauty of your attire.
Achkan style sherwani: If you are really conscious about your looks and making the right style statement for your wedding day, then this is the perfect choice for you. Achkan sherwani is the perfect fashionable attire that can add jazz to your looks. It is one of the most popular choices in sherwani that anyone would love to wear on their wedding day to make it classic. You can add churidar, dhoti pajama, and jacket to complete your looks.
Angrakha sherwani: If you have good upper body, which you really want to flaunt on your wedding day, then this is the best choice as your wedding attire. Angrakha shwerwani is the perfect match for a masculine upper body. This style is really in demand as most of the guys who have well-structured body always want for such a wedding outfit, which will complement their physique. Fashion gurus believe that these kinds of sherwani's look really elegant if they are well teamed up with other accessories. The shewrani offers a perfect royal look to go well with your super masculine physique. Any kind of bottoms can go well with this sherwani style, but don't forget to pair this up with nice jaipuri or Punjabi juttis.
Jodhpuri sherwani: This is another royal style sherwani that is often worn by youngsters to get that royal look on their wedding. After all, your wedding looks can't be completed without a perfect Jodhpuri sherwani. This is really an ethnic piece of work and designers took years to make the masterpiece. These sherwani's are really expensive as you will always get these in limited editions and customized. You can mix these sherwani's with a pair of churidar and cufflinks and stoles as accessories that will give you that desired royal look.
LoveVivah.com matrimonial portal provides online platform for brides and grooms for marriage. Get registered now your matrimony profile for perfect life partner.