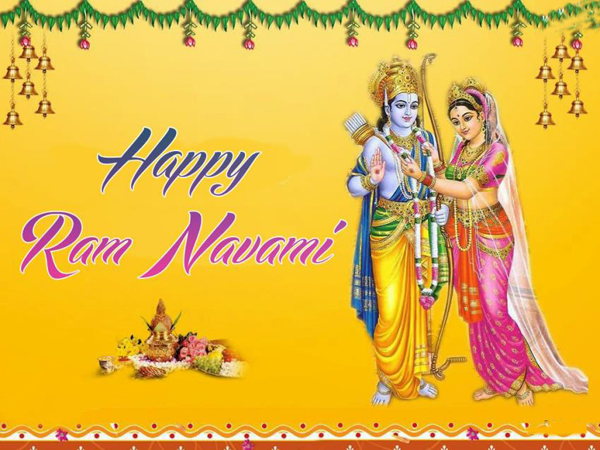 Rama Navami is important Hindu festival which is observed on birthday of the Lord Rama. Ram was the son of Queen Kausalya and King Dasharatha of Ayodhya. The ninth day (Navami) of Chaitra month is the birthday of God Rama as per Hindu calendar. The nine days celebration of Navaratri is known as "Rama Navaratra". The function of Ramacharitamanas is arranged with bhajan in the temples. Sweets and Prasad is distributed after doing Puja in the Ram temple. The devotees of Lord Ram are chanting of name of Sri Rama on this day.
According to epic the Ramayana the king Dasharatha of Ayodhya who had 3 wives named Kausalya, Sumitra and Kaikeyi. Lord Rama was born to Queen Kaushalya, Lakshmana and Shatrughna to Queen Sumitra and Bharata to Queen Kaikeyi. God Ram is famous as the "Maryada Purushottam" (Ideal perfect human being) among the Hindu religion.
Rama takes birth to protect all his Hindu devotees by destroying the demon king Ravana of Lanka. The story of Ramayana tells about the life of Sri Ram and his wife Sita and family. One the his Mahamantra is "Hare Rama Hare Rama, Rama Rama Hare Hare,
Hare Krishna Hare Krishna, Krishna Hare Hare"
Celebrations of Ram Navami at Important Places
Ayodhya in Uttar Pradesh, India
Janakpurdham in Nepal
Sita Samahit Sthal (Sitamarhi) in Bihar
Bhadrachalam in Telangana)
Kodandarama Temple in Andhra Pradesh
Rameswaram in Tamil Nadu
Devotees mark Shobha yatras of Lord Rama, his wife Goddess Sita, his brother Lakshmana and Hanuman with prayers in the temples.
LoveVivah.com matrimony services wishes Happy Ram Navami to everyone with joy. God Ram may bless everyone with prosperity.